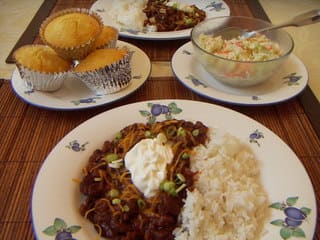 In Texas, where this dish originated, serve in the traditional manner, with beans and fluffy rice.
In southern, with a Corn Bread!
Chiri ha Tekisasu umare no oryo-ri desu, akai omame to nikomimashite gohan wo soemasu noga oyakusoku desu.
Kochira Nanbu deha sarani ko-n breddo mo soemasu noga oyakusoku desu.
Yes, we got a home made Corn bread (muffin) !
Hai, wagaya demo oyakusoku do-ri ni wagaya de yakitate no ko-n bureddo (maffin no kata de yakimashita) wo soemashita!
Please, Click here!
Onegaishimasu.
ninnkiburogurannkinnguhe