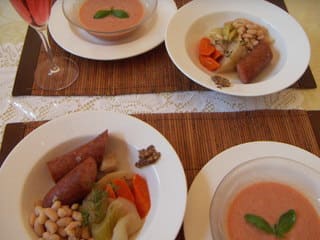 We had a Sausage with Vegetables dish and Gazpacho last night.
Yuube ha Souse-ji to Oyasairui no nikomi ni Gasupacho no Okondate deshita.
A Sausage with Vegetable is our favorite dish and making often but we use different
ingredients
and
recipes
, sometimes.
Kochira no Sause-ji to Oyasai no nikomi ha wagakazoku no Okiniiri ha mochiron no koto Omame ya Oyasai wo fundan ni tsukaimasu node shibashiba tsukuri masuga itsumo onaji desuto aki masu node tamani
zairyou
ya
tsukurikata
wo kaeteimasu.
We used Kielbasa Sausage, Cannellini(White Kidney Beans) and Thyme yesterday.
Yuube ha Kirubasa Souse-ji to Kaneri-ni(Ootsubu no Shiro Ingen) wo tsukaimashita, kono atsui jiki desu node Taimu no kaori mo kikase mashite saratto shiage mashita.
Please, Click hire!
Onegaishimasu.
ninnkiburogurannkinnguhe