Business Insider
Trump's approval rating just reached its highest level yet in the gold standard of presidential indicators
Business Insider
GRACE PANETTA
Jun 18th 2018 7:07PM
トランプ大統領の支持率は過去最高値の45%
Trump's current approval rating 513 days into his presidency is on par with the approval ratings of other presidents at similar points in their first terms. President Barack Obama's approval rating was 45% at day 523 of his presidency, and former President Bill Clinton held 44% approval on day 524.
Data analyst and FiveThirtyEight founder Nate Silver theorized that Trump's sudden spike in approval ratings this week is most likely due to the positive reaction among Republicans to the summit with North Korea's Kim Jong-un.

Silver said that temporary increase would disappear in the coming weeks, as the Trump administration faces mounting backlash from Democrats and Republicans alike over it's controversial "zero-tolerance" policy that has led to the separation of parents and children at the US border.
オバマさんが、513日目で45%、クリントンさんは、524日目で44%。米朝会談が評価された支持率があがったのではないか、と。
もっとも、国境での家族離別問題があるから、支持率はさがるだろう、と。
Gallup Daily: Trump Job Approval
Gallup
JUNE 18, 2018

Satisfaction With U.S. Direction Reaches 12-Year High
by Jim Norman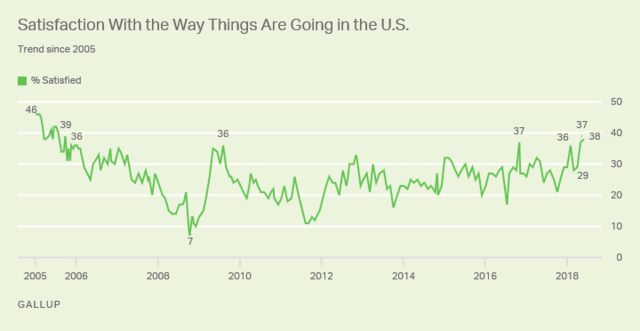 アメリカの現状満足している、というアメリカ人が35%、2005年以来12年ぶりの高い値を示している、と。
世界的には不人気、国内の大手メディアでもボコボコ、しかし、トランプ氏は強みを見せている。
選挙のときも、当選したときはまさか、と思ったからね。