今回は、救助の状況です。フランス語圏で言葉が通じず、大変な思いをしたようですが、運もありました。
幸い私はありませんが、事故には至らずとも、海外旅行中に病気になり病院のお世話になることがあるかもしれません。
携帯の翻訳機能や辞書を使って症状を説明できるように、出発前に準備しておきましょう。
それと海外旅行保険への加入と保険会社の連絡先および電話のかけ方の確認。海外、とくに米国などは医療費がべらぼうに高いです。
クレジットカードに付与されている医療保険についても、その適用範囲を確認しておきましょう。
さて、本題です。ケガの状況が生々しすぎて・・・・・
Around that time, I saw one of Rani's ankles. It was completely broken and was only attached by skin. Finally we reached the boat, and the crew helped Rani on the speedboat first, as she was the more injured. Then, they lifted me aboard.
The boat traveled at a very high speed, and it was very painful for both Rani and me, but we could not communicate in French to slow down which was the language of the people speaking.
When we got to the beach, many people from the island (Grand Comore) carried us and others off the boat and to a 9-seat multi-purpose bus, which took us to a small hospital or doctor's office. At that point, I lost contact with Rani. It took about 15 minutes to get to the clinic and was a very painful ride. I could not move my left leg, and it had to be kept in a bent position leaning toward my right leg or the pain would be too great. A young boy from the island helped keep my leg in place, as it kept falling outward and that created a great deal of pain for me. I was so grateful to the boy, that I gave my watch to him. He seemed to be so grateful for such a simple gift that it made me feel very good in giving it to him, and I was more assured that he would take better care of me until I arrived at the hospital. He could not believe that I was giving him the watch, and he tried to give it back to me, but I insisted that he kept it. (子供の方からすると盗んだと思われるのが嫌だったのだと思います)
In that little clinic I noticed a lot of medical people in swimming suits. It turned out 20 doctors from France were on vacation and saw our plane crash from the beach. They went directly from sun bathing to work on us.
From the vehicle, we were taken to a slightly larger hospital in a pick-up truck, as far as I could tell.
The clinic was filled with activity, and I was told that I was one of the least injured and to please wait until more critical patients were tended to first. So, I started waiting.
Around me were two English ladies who did not want to stop talking and a greatly injured Indian lady on my right. One of the English ladies left the room, and the other lady had no one to talk to, so I started talking to make her feel better, as she did not seem in that great of pain.
The Indian lady was in a great deal of pain and was not conscious most of the time. When she asked for the doctor no one could understand her as her voice was very low, and she could only speak English. I tried to help her by calling out for a doctor on her behalf. Finally a team of doctors came and examined her. They examined her right in front of me, and I could see her from head to toe completely naked, as we laid in beds side-by-side and very close. All I could think of was her pain, as I could see her suffering terribly. It turned out she had over 17 bones broken and would have to be in a full body cast for over six months.
From a faraway room, I heard a voice calling my name. "Ron is that you?" She heard my voice calling for the doctor for the Indian lady next to me. It was Rani. I had found her again, and we were once again in contact with each other. I thought I would lose contact with her forever this time, so I had my business card sent to her. Then, she could contact me when we all recovered. She also gave me a note of her address.
Finally, it was my turn to have my leg x-rayed. It was learned that I had definitely had a separated hip and may have broken bones in the hip as well. The x-ray was extremely painful, as I had to roll over on the injured spot.
It had to be operated on immediately, as the bone would set in the wrong place, and there would be damage later. I was given general anesthesia. During the operation, I thought I was in a fairy tale with a lot of gray and white kaleidoscopic designs. The leg was set back into the socket of my hip.
The next thing I knew, I was looking up at a lot of doctors and people. They were all looking at me as if I was a newly born baby. The doctor said I was all right now, and I noticed my leg was straight again.
When I got back to my bed, I noticed that I had a cast on my left ankle even though I knew my ankle was not injured. I learned later that it was there to keep my leg straight.
The British lady across from me seemed to want to talk some more. She said her and her friend were on a world tour when this tragedy occurred. She said she worked for MTV for many years. We also shared experiences of the flight, as she was in Economy Class in the back with the smokers, and I was in business class in the front. She had a punctured lung, and I did not want to tire her too much. So, I kept my words short, simple and cute. She and that friend with her later on wrote a book about the flight.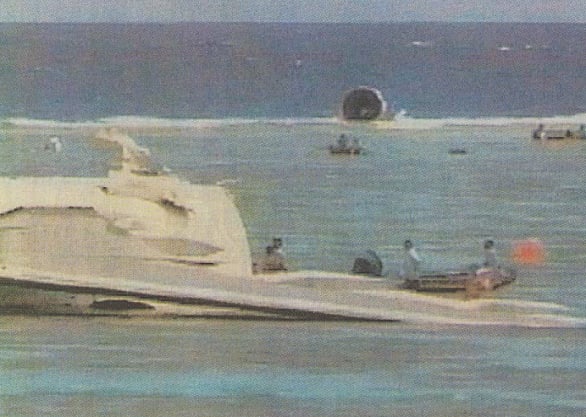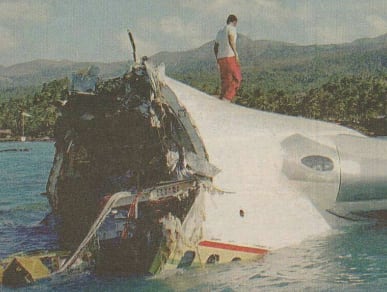 Photograph of the crash
***************************************************************************************
齋藤信幸の『理詰めの営業』はここ。
齋藤信幸のロングステイはここ。
***************************************************************************************