Industry Fair in Zenkoji-daira 2016 was held at Big Hat, located in Nagano-city,
on 28th and 29th October, and we put on a display in this event.






This year, we set the theme of the display as "engage",
making the title "Engage Technology, Engage the Future".






Our products contribute to safety and solid comfort in your life by "engage technology" .
For example, our clutch facings in clutch unit for cars, when engaged, safely transfer rotation of engine to tires.
And our valves made of fluororesin connect industrial machinery and plumbing, and so ensure a stable operation.

In our booth, we introduce our developing technologies to support safety and security in life, "engaging the future".





During the fair, a wide range of visitors, including students of industrial high schools, colleges and universities in Nagano city,
and families with children, took a look and touched our products.

We would appreciate if the visitors would feel and understand the manufacturing quality of NiKKi Fron.

Let us take this blog to express our gratitude for visitors to our booth in this event.
On June 10th and 11th, we had a company trip to Kobe, western Japan, as part of events commemorating the 120th anniversary of NiKKi Fron Group. This trip was presented by Shinwakai, an employee group for friendship in our company.
Western Japan entered into rainy season just 1 day ago, but luckily the weather was so fine and comfortable on the 1st day and we had a wonderful time sightseeing Kobe city and cruising in Kobe bay area.
We stayed at Arima Gyoen in Arima Hot Springs, one of the oldest hot springs in Japan.
The dinner party was so excited and we deepened staff-to-staff exchanges.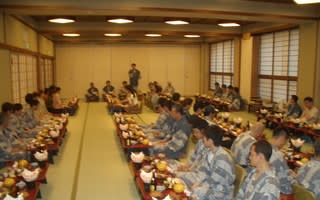 It was unfortunately cloudy on the 2nd day, but we continuously had an enjoyable time.
We visited Himeji Castle, one of the UNESCO World Heritage Sites, which had been just repaired.
The Castle is frequently known as Shirasagi-jo ("White Heron Castle") because of its brilliant white exterior and supposed resemblance to a bird (a white heron) taking flight.
It was so beautiful with white mortar abundantly used in the whole building from walls, the castle tower, to openings among roof tiles.
One of our products, RarePla® (Rare Plastics) was also featured as its whiteness, so we felt particularly close to Himeji Castle.
This company trip refreshed us and we really had a wonderful time!
The 13th Shinkin Business Fair was held at Big Hat located in Wakasato, Nagano-city, on Wednesday May 11th, presented by Nagano Shinkin Bank.
This exhibition is held every year aiming to successful business matchings to support local economy, and we continuously put on a display.
(A product line-up of NiKKi Fron and carbon material brand "hide k 1896")
Over 260 companies and groups participated in this exhibition from a manufacturing industry, IT services, food business, to environmental business, inside and outside Nagano prefecture.
In addition, high school students in Nagano city visited and toured this event, filling the hall with bounce.
In our booth, we displayed fluoroplastics molded products ― fluoroplastics is one of our core businesses, and FRP (fiber reinforced plastics) friction materials for automobiles and industrial machineries ― we produced FRP products in Thailand and sell to ASEAN global market.
Both products were rare for many visitors to see, attracting deep interests of them.
Moreover, soft-carbon products made by carbon material brand "hide k 1896" gained a pretty good reputation from visitors.
As for this soft-carbon product line-up, we provide "hide k 1896" with carbon materials, and the Lexus, the luxury vehicle division of Toyota motor, adopted this line-up as part of "The Lexus Collection" in this spring.
Let us take this blog to express our gratitude for visitors to our booth in this event.
If you want to inquire about "hide k 1896" soft-carbon products, please contact below;
hide kasuga 1896 Co., Ltd.
TEL:+81-3-6432-9024 / MAIL:info@hk1896.com
On Wednesday April 27th, Nagano Gov. Shuichi Abe and members of Industry and Labor Department, Nagano prefecture, visited and observed our headquarter plant in Nagano city.
Gov. Abe had planned to understand how manufacturing industry in Nagano works now and we eventually got this honorable opportunity to welcome his visit.
At first, our president, Mr. Takayuki Kasuga gave a presentation about company profile, following our chair person, Mr. Hidehiro Kasuga illustrating our business history. And then, Gov. Abe watched all manufacturing sites of our business.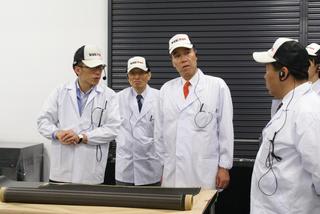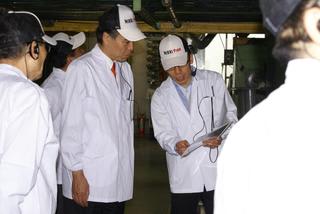 (Gov. Abe listened seriously to Pres. Kasuga's explanation)
Gov. Abe carefully listened to our illustration about how to produce materials and molding techniques, watching actual production processes and complete products, and gave us concrete questions about manufacturing methods and competitiveness enhanced by them.
After the plant tour, we made a hot discussion with our management team attending.
In this discussion, Gov. Abe clearly illustrated his idea; on government side, he will promote to provide productive and attractive education systems in order to secure more talented individuals in Nagano, and he wants us, on business side, to actively welcome internships or other educational programs.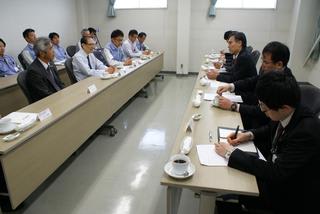 (A discussion with our management team)
(A commemorative photograph with Gov. Abe and members of Industry and Labor Department)
Please allow us to take this blog to express our sincere gratitude for Gov. Abe's visit today.
We held a barbeque party at the NiKKi Fron Park located in our site as a part of events celebrating the 120th anniversary of NiKKi Fron Group.
In 1896, we launched our business as a hemp wholesaler in this Nagano city, and this year we marked 120-year of history since establishment.
The weather was so fine that we felt like it was already early summer.
In addition to our staff, their family members, children and beloved dogs also joined the party and we enjoyed ourselves so much.
(Barbeque party at a park inside our premises)
More staffs and families attended this party than we held a first barbecue party at garden spaces last autumn.
(Yakiniku tasted extraordinarily delicious as we all enjoyed!)
(A variety of members joined this party; NiKKi Fron Baseball Club members rushed after a practice match and some staffs working on holiday enjoyed a lunch in the party.)
(Decorated cakes celebrating 120th anniversary year of NiKKi Fron Group)
Our staffs and their family gathered at the party and passed a wonderful time while deepening exchanges.
We hope to hold the party again in this autumn!