On Wednesday April 27th, Nagano Gov. Shuichi Abe and members of Industry and Labor Department, Nagano prefecture, visited and observed our headquarter plant in Nagano city.
Gov. Abe had planned to understand how manufacturing industry in Nagano works now and we eventually got this honorable opportunity to welcome his visit.
At first, our president, Mr. Takayuki Kasuga gave a presentation about company profile, following our chair person, Mr. Hidehiro Kasuga illustrating our business history. And then, Gov. Abe watched all manufacturing sites of our business.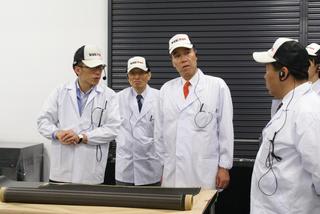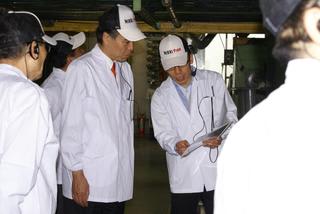 (Gov. Abe listened seriously to Pres. Kasuga's explanation)
Gov. Abe carefully listened to our illustration about how to produce materials and molding techniques, watching actual production processes and complete products, and gave us concrete questions about manufacturing methods and competitiveness enhanced by them.
After the plant tour, we made a hot discussion with our management team attending.
In this discussion, Gov. Abe clearly illustrated his idea; on government side, he will promote to provide productive and attractive education systems in order to secure more talented individuals in Nagano, and he wants us, on business side, to actively welcome internships or other educational programs.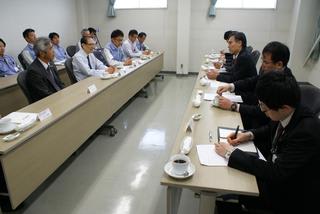 (A discussion with our management team)
(A commemorative photograph with Gov. Abe and members of Industry and Labor Department)
Please allow us to take this blog to express our sincere gratitude for Gov. Abe's visit today.
We held a barbeque party at the NiKKi Fron Park located in our site as a part of events celebrating the 120th anniversary of NiKKi Fron Group.
In 1896, we launched our business as a hemp wholesaler in this Nagano city, and this year we marked 120-year of history since establishment.
The weather was so fine that we felt like it was already early summer.
In addition to our staff, their family members, children and beloved dogs also joined the party and we enjoyed ourselves so much.
(Barbeque party at a park inside our premises)
More staffs and families attended this party than we held a first barbecue party at garden spaces last autumn.
(Yakiniku tasted extraordinarily delicious as we all enjoyed!)
(A variety of members joined this party; NiKKi Fron Baseball Club members rushed after a practice match and some staffs working on holiday enjoyed a lunch in the party.)
(Decorated cakes celebrating 120th anniversary year of NiKKi Fron Group)
Our staffs and their family gathered at the party and passed a wonderful time while deepening exchanges.
We hope to hold the party again in this autumn!
We would like to offer our prayers to all those who lost their lives in the devastating earthquakes that have repeatedly struck Kumamoto Prefecture in Kyushu since April 14th, 2016.
We would like to express our sincerest condolences to the victims and wish for the earliest recovery of the region.
"New market creation via real soft carbon"
Toyota Motor and hide k 1896 collaborated on developing real soft carbon items of special edition and launched them in 167 Lexus dealers nationwide since March, 2016.
It is first time for Toyota Motor to release Lexus Collection items under joint brand names.
Toyota Motor promotes new value creation and these collaborative items are regarded as communication tools to convey the appeal of "carbon materials" which is used in Lexus brand cars.
4 items are released; a school bag, a card case, a card key case, a coin purse.
These collaborative brand products of "Lexus and hide k 1896" are made of carbon materials NiKKi Fron provides.
If you want to have any inquiries, please contact your local Lexus dealer.

(School bag with real soft carbon used in inside and back)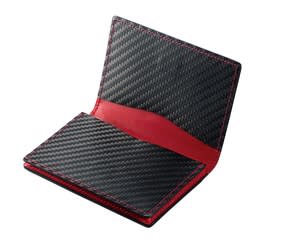 (Card case)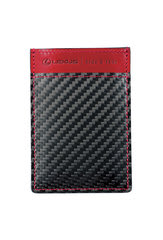 (Card key case)

(Coin purse)