On April 7, 2021, the former Minister of Economy, Trade, and Industry and the current Secretary-General of the Liberal Democratic Party of the House of Councilors, Hiroshige Seko, visited NiKKi Fron.
NiKKi Fron's Nagano facilities were damaged by flooding from the Chikuma River embankment collapse due to Typhoon No. 19 in 2019. We showed our esteemed guest the results of applying the METI group subsidy toward reconstructing and renewing our factories. (The group subsidy applies to facility recovery and maintenance costs of small and medium-sized corporations that were damaged in the flood.)
We also introduced to him our forays into new fields that we were afforded by the group subsidy.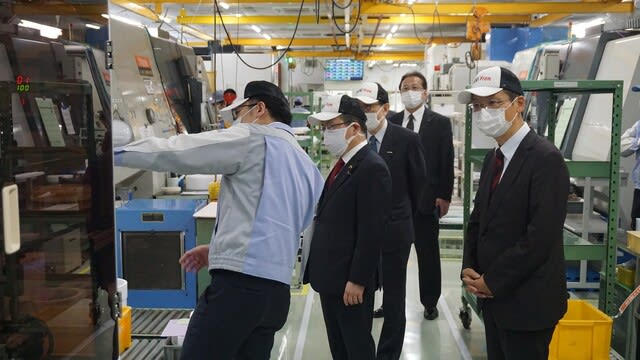 Mr. Seko praised our use of subsidies as the realization of the vision he conceived as Minister of METI. His vision for subsidy was to promote the advancement of Japanese manufacturing and digitization. We are heartened by and thankful for this praise.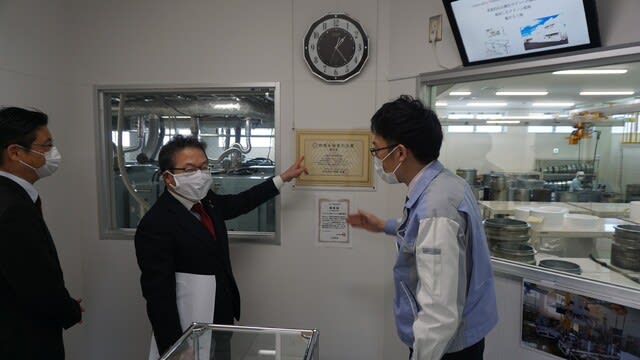 In 2018, when Mr. Seko served as Minister of Economy, Trade, and Industry, NiKKi Fron was formally recognized by METI as a Company Driving Regional Growth.
NiKKi Fron will continue to push the standard of excellent craftsmanship technology and to advance our IoT methods. We are proud to contribute to the diversification and resilience of Japanese manufacturing.