On Jul.30, Prof. Chang of KAIST visited our company by the introduction of Prof. Saito of Tokyo University of Science MOT. After introducing our Tokyo office, Prof. Chang visited our Nagano plant and gave a plant tour.
KAIST is the national university of Korea aimed to cultivate top class researchers of advanced scientists and engineers.
On Jul.13, National Efficiency Conference sponsored by All-Japan Federation of Management Organization was held at Chiyoda-ku, Tokyo. Under the theme of the seminar; "Formulate the next strategy of growth ~ future Japanese industry and the main emphasis of management ~", our president Hideyuki Kasuga lectured titled, "To become a R&D company ~ send out the original manufacturing from the land of Nagano ~".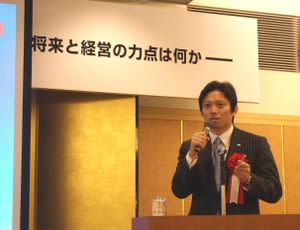 The keynote speaker, Mr. Fumikatsu Tokiwa, the former chairman of Kao and Kasuga has been exchanging from the past. Mr. Tokiwa gave lecture at our in-company training program.
To establish the new "manufacturing" and the sense of management, Nikki group will aggressively challenge.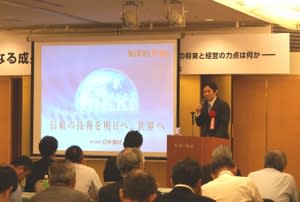 From Jun.27 to Jul.3, our president, executive director, and other three staffs went to France on business.
The aim of this business trip was to visit the plant of two CFRP related companies in Lyon and Bordeaux of France and examine the possibility of collaboration by confirming their business contents and technology level.
The schedule was very tight since we had only 5 days to visit three cities including Paris.
However, it was a fruitful visit to see the advanced CFRP technology of the two companies.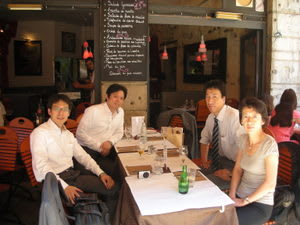 France is one of the countries in Europe working hard on R&D. The two companies we visited this time are challenging on the application of CFRP member in the new field based on their advanced technology.
Even though CFRP is a polymer material, it has an equal stiffness as metal and is examined as a metal alternative material for weight saving.
We had a image that CFRP is applicable for limited field such as aerospace, but the visit to the two companies realized us the possibility of its application in various fields.
As mentioned before, we had a chance to visit three cities in France and would like to introduce each city from our viewpoint.
As you know, Paris is a global big city and known as a trendsetting city of art and fashion. We could see historical constructions such as Arch of Triumph and the Eiffel Tower all over the town and also globally famous museums such as Louvre and Orsay are constructed in Paris. There are more than 100 small and large museums in Paris too. The base color of the town is white and high-integrated buildings are standing side by side. By looking at the town, it was easy to understand the history and artistic quality of France and why this county is called the "town of art".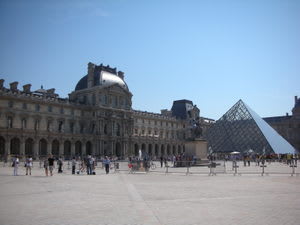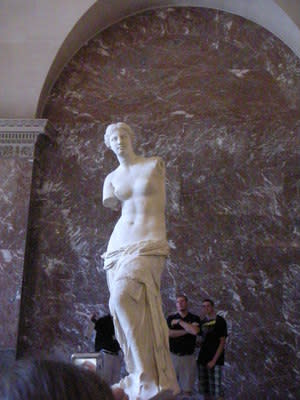 Lyon is located in the south east part of France and is the no.2 city of France. From Paris, it takes two hours by TGV. Different from Paris, Lyon is a suburb of large rural zone and got the impression that nature and culture are well-matched. The old historical buildings are standing in the town and felt the weight of its history.
Bordeaux is the production area of wine. Unfortunately, the company we visited was far away from the center of Bordeaux so we could not see the urban area, but instead, we were able to see the large vineyard stretching ahead to horizon. The scenery of vineyard continued eternally and could see many chateaus brewing wine. We could never see such wonderful scenery in Japan.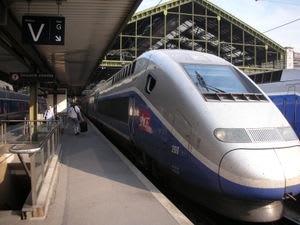 The visit was only 5 days but we were able to know France from different places and broaden our knowledge.
As for our business, it was a big achievement to see directly the possession technology of oversea companies and also to speak directly with the engineers.
We will take advantage of this opportunity to the development of our products.