NiKKi Fron participated in "JAPAN SHOP 2011" held at TOkyo Big Site during March 8-11, 2011.
Attaining its 40th anniversary, thsi nation-wide exhibition was crowded with nearly 120,000 visitors for four days. Our NiKKi Fron booth also received around as many as 4,000 customers.
Our booth thronged with many visitors
Concept products exhibited in the center of the booth
In the exhibition hall, 232 companies presented their own captivating works to decorate space, including business space designs, displays, and materials for interior decoration.
Nihonkizai presented several works made of special resin, each one of which is assigned a clear concept that creates additional value appealing to the sensibilities of general consumers. This resin is made from an ore, and we spent half a century on its development.
The product concept of a newly developed rare plastic: hou (=wrap)
A French corporatoin, Blanc BIjou (White Jewelry), which is a private company of our president, plans to hold an exhibition in Paris early next year. As preparation for this exhibition, our participation in the trade fair was indispensable in order to publicize the new materials developed by NiKKi Fron, a manufacturer of the high-grade material brand. Fortunately, we received not only opinions and questions about the usage and applications of material, but also quite a few inquiries about where these products are sold.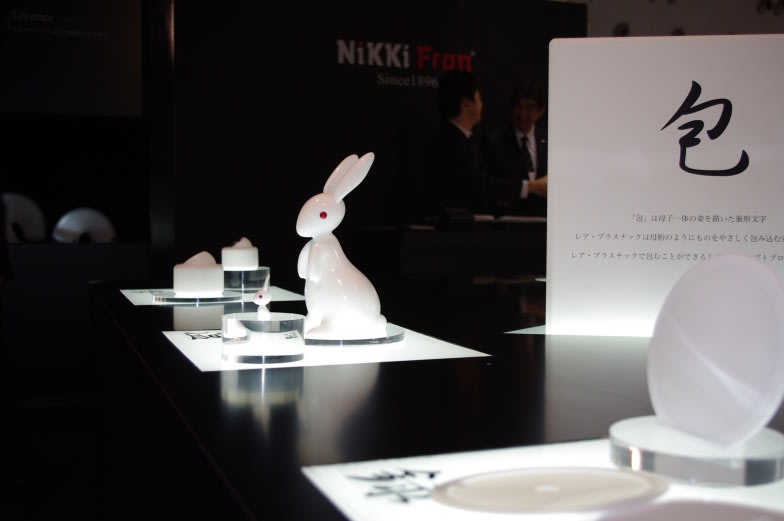 Visual arts made from "rare plastic"
"Fucion of Science and Art" is our catchphrase. In the scientific area, our special material, "rare plastic," has been usedc in cutting-edge research fields, such as the medical and robot industries. In the artistic realm, the French corporatoin, Blanc Bijou, produces attractive line-ups appealing to the wide-rage of consumers and promotes "rare plastic" as new brand.
In the future, we keep expanding our business fields and producing artistic works made of rare plastic. Please look forward to our new products.
((What is rare plastic?))
It is a special plastic created from fluorite, an ore which is also used to produce jewelry. This material not only demonstrates great functionality as its conventional advantage, but also appeals to human sensibility through its properties, such as an everlasting sow-white color, heavy weight, and a warm and smooth texture. Rare plastic is a new concept that NiKKi Fron proposes.
THe Fifth Mitsui Chemicals Internatinla Symposium on Catalysis Science was held during March 9-10, 2011 at the Kazusa Academia Hall in Kisarazu-city, Chiba uner theme of "Catalysis Science and its Contribution to Sustainable Development."
Mitsui Chemicals Inc., our business partner, has organized this symposium in the pursuit of further development of catalysis science to contribute to "Dream-Inspiring Innovation."
The symposium was attended by 1,600 people from industry, governmen, and academic institutions worldwide. Our president, Hideyuki Kasuga, was invited to the symposium as well as to the dinner party in which only 200 people could participate.
President Kasuga attended the lectures by the most renowed researchers in the field of catalysis science including Dr. Negishi and Dr. Suzuki, Novel Laureates. Dr. Domen, President Kasuga's former teacher and a present adviser of our research and development division, also gave a lecture. Fortunately, President Kasuga was afforded an opportunity to talk and take a picture with Dr. Negishi who accomplished a great achievement in the study of palladium catalyst on which President Kasuga also researched when he was at university.