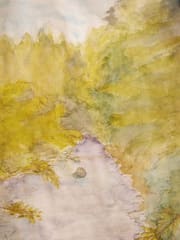 No, this was not what I wanted. A sketch should be a lot simpler, and still look more real, I guess.
Well, looks like it's time to look for some tutorial stuff and also to see more sketches by others. I need input.
Another thing I noticed this time was that it's hard to take a good photo of a painting on a cloudy day. No matter I use flash or not, or adjust white balance or not, the color tone in the photo turned out really different from the original painting. In this photo, the whole thing look rather brownish, but actually the tone was more greenish in the original.