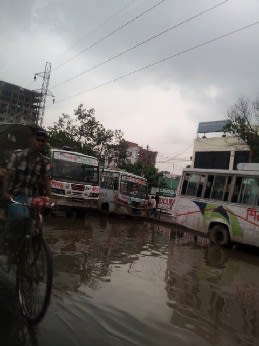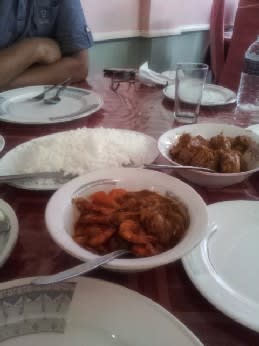 A fright from Istanbul to Dhaka was probably the worst fright I have ever flew, was a horrible
night mare. More over this seven days trip was definitely the worst business trip in my life, three
nights at hotel and four nights on airplane, visited four cites, Istanbul, Ankara, Dhaka and the last
destination Singapore. Singapore is not a favorite destination for a fly fisher who think too much
people and artificial to fish. Yes, they are right and probably its better to enjoy exotic food and
atmosphere. As you know, street foods in Singapore are the best in the world. If you have enough
time probably you can hire boat and enjoy saltwater fly fishing, such as Mahi, Barracuda, Queen
fish are waiting for you. When I saw my schedule I found six hours to the next fright at Singapore
and as you know what I do was fishing just like I have fished in Singapore a few years ago, when
I fished at the world famous Sailfish heaven, Kuala Rompin, Malaysia, as Singapore Changi airport
is the gate way to the heaven.
On the other hand over night fright from Dhaka to Singapore was very comfortable, picked up
my baggage, change closes and got ready to fish. The way to the first reservoir I chose taxi as
I wanted to be there before sunrise not to miss biting fish. Before rush hour, its very clear and
easy so I got the first spot exactly when I wanted. Tried small flies as fist with intermediate line,
no bite, too dark to get a bite? Set a floating minnow, dreaming to get a big bite, no, nothing.
A bit later when it started bright fish became aggressive, the action had started, the most exciting
mormnet whenever you fish. They were chasing and biting something, it seemed like some good
fish in a bunch of biting fish, however they would not bit floating minnow. Quickly set small flies
again with intermidiate and imidiatly I got a fisrt bite of the day. but all of sudden it came loose
when I was about to land it. Then next bite, it came off just after the bite. The third and the last
bit, luckily a baby peacock was on well maintained grass shore. I knew I should hook another fish
while they were biting but as it should be while I was taking photos it got quiet and they all gone.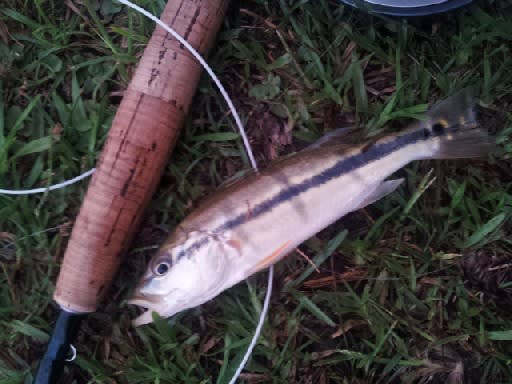 Walked around the resovier for a while, no action, no fish so I dicided to walk to the cannal where
we fished our last trip. The water grasses were pretty nice and looked very productive at first but
soon I found water was muddy because of constraction. I saw a couple Tirapia, but no peacock.
Walked up and down along the cannal, found a couple of lure guys, a pair of common sneakhead
with their fry and a few giant sneakhead imidiaterly swam away before I got ready to cast. Found
a good peacock in weeds, soon down into weed jungle and never up again.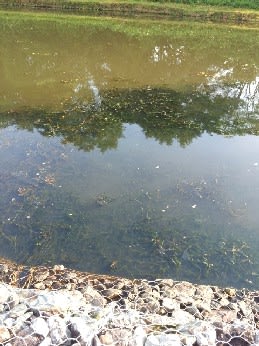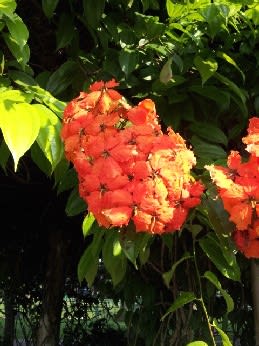 When sun was up, it's really hot as it should be and became very slow. Walked to see the lower
resovioer, but soon I gave up even did not wet fly. Found a station near the risovier, the train was
fairly packed probably becase of beginning of the week and just before office work, but less than
one hour ride I got to the airport.
Data
Singapore reservoirs
Weather: Sunny
Temperature: 27 - 30℃
Fishing: 06:00 - 09:30
Fly: Woolly bugger black #10
Want to know more? Email to me.