《Diary Not progressing. But moving forward.》   5/23/2012

Everyday the weather is different.
Its crazy how the temperature is up then down!
Yesterday it was cold and so we had the heater on overnight.
All day long there was cold wind and rain.

Amidst that weather we held the "May Wakaba Party" which is part of the Grace Kizuna Café events which were started last month as a way to interact with those we are supporting.

At last month's "Sakura Party" we had 33 people attend but this month was not as well attended. Now at a year and a few months since the disaster I get the feeling that more and more disaster victims are getting sick and going to the hospital. Even our staff and my husband and I are started to feel sluggish and are struggling with poor physical conditions.

Even still, we had a number of people come who didn't make it last month totally 17 adults and 3 children as well as 6 members from the Starbucks team, 10 of our staff members and ourselves.

We also had a special guest, Japanese gospel singer Reiko Uehara, who came from Okinawa and joined in song with our staff member Ms. Seio.

Even before the disaster, Starbucks has been helping to volunteer with our Grace Community Service events such as "Gospel Live" and our parenting seminar "Coaching Mama". Last year they also joined us as we went into the evacuation shelters.

It had been a while but it was nice to have employees and the manager Mr. "U" come and join us.
Mr. "U" is originally from Kamaishi in Iwate prefecture (an area heavily damaged by the tsunami). He said, "I just want to do whatever I can to help."

15 minutes before the event began Mrs. "I" arrived by bullet rain from Shirokawa city where she was evacuated to.
Usually she comes with her husband but today she was alone.

March 11th. Their home in Sukagawa city was completely destroyed. When the rescuers found her she had been pinned under two shelves and a dish cabinet.
She had countless shards of glass in her eye and 3 broken ribs.
After receiving first aid and some time in the hospital, she and her husband spent six months of evacuation life in gymnasiums and temporary housing.
It was at the time when they were living in the temporary housing that we gave a "Life Starter Set" to the people next door to them and they came inquiring of us.

"Up till now I'd always hated Christians, always felt like they were looking down on me. And when I heard that you all were wantin' to provide relief to us I told my husband to forget it and let's go back home," Mrs. "I" said blushing.

"But you all were completely different. Every time you came here and every time you stopped by to check on us I just felt love from Ms. "R" (staff member) and was always uplifted by you pastor Toyomi."

"Starting last September I went into a depression," she said as she smiled.

"They tell me that all day long I would just walk around talkin' to myself, but I've got no memories of it. Even still, you repeatedly came to visit us. I haven't thanked you properly for that and I'm not sure how to show my gratitude."

The "I's" are originally from Tokyo. That had gotten tired of the rat race of the big city and so ten years ago they begun planning to leave their little apartment in Tokyo and moved to the quiet countryside with the hope of building a house and growing old there. And so two years ago Mr. "I" retired and they made the decision for a calm and quiet life.

At that time they still had a lot to pay on their mortgage.
Beginning this year they received repeated appeals from the city to demolish their house.
"Every month we get them to extend the deadline for demolishing our house. But this next time I think we will go and apply for the demolition permit," she said.
Sometimes the two of them go to their house in order to clean up the furniture that was scattered about on March 11th of last year.
"Sometimes we get excited and say let's go clean up our house today! But when we get there and have to enter the house with our shoes still on and see all the broken stuff covered in dust, we can't bear it."
"Once we get inside we have no idea where to start and so we put it off until 'next time' and head home."
Silence.
Mrs. "I's" eyes filled with unspoken words.
In her eyes I can see that couple in their seventies going to the house that they love, looking over the scattered rooms and then returning to their cramped temporary housing unit.
I can clearly hear her silent voice.
"Really...Mrs. "I"...last time we met you had talked about cleaning up your house...how would you feel if some of us volunteers came and helped you?" I ventured.
"What, really?" she replied and started smiling.
"Even though the stuff is broken and damaged it may still be important to you. So, I thought you may be against other people getting involved.
I just feel it would help you to move forward a little. It would be impossible for just the two of you to work through all that stuff," I continued and her smile grew wider.
"Oh thank you so much. You've been such a big help already I don't want to bother you any further. But sure enough with just the two of us we aren't making any progress. When I go home I'll talk it over with my husband," she responded.
"Please, by all means, let us help you. We can move forward together!" I encouraged her. "
"Yes your right! Thank you so much," she finished.
After that, during the concert, during the lunch that we provided, during the quiz game, the entire time all of the disaster victims that came from various places spent the time smiling and chatting away.
People like the "I's" who were evacuated for reasons not directly effected by the tsunami or nuclear disaster are not receiving much relief or support.
I don't think that it is necessarily the fact that the local government is ignoring them. I think it's just that things are not moving ahead very well.
The news that some places have started to refuse disaster related rubble and debris from Miyagi prefecture made the news yesterday.
The demonstrators are saying that they are opposed to accepting "radioactive debris".
I can see how they might feel.
"Do you all really have to be such haters!? We're not sending it out because we want to," my daughter said to the television.
"Well there's no helping it I guess," I said after hearing the news report.
"Rubble, debris, don't call it that. That stuff was our homes, our property, our fortunes!" one man said responding in an interview.
It reminds me of what one of our staff members insightfully said after the concert,"I guess all we can do is try and help things move forward so that the people of Fukushima can meet God."
We're cleaning up memories and treasures that many people call debris.
It's a small step but were moving forward little by little.
Rejoice with those who rejoice; mourn with those who mourn. (Romans 12:15)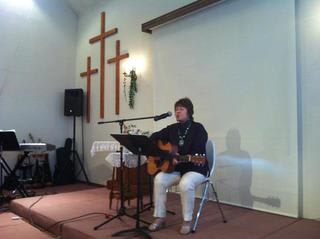 Praise the Lord.

 Thank you all for your prayers and support for the relief work of the Higashi Matsushima Amazing Grace Center and for the healing and salvation of souls in the disaster area.

 With the Lord's blessing, we were able to hold the third "Tea and Talk" on Tuesday the 22nd.
 At the Higashi Matsushima Amazing Grace Support Center we are continuing to provide relief items and food like we have since last March while at the same time we are providing relief for the heart since last winter through various concerts, movie showings and "Tea and Talk" events.

 What's more, one year after the earthquake, early this March, the Billy Graham Evangelical Association held the "Tohoku Hope Festival". And with that opportunity we began the so named "Word and Tea" events at the pace of one a month; allowing us to truly start sharing the gospel with the disaster victims.

 This most recent gathering started with praise, prayer and a testimony and then we used the church education department's seeker focused "True Salvation" course as a Bible study text. After the meeting we had a time of tea, snacks and fellowship. As on previous occasions we had between 40~50 people attend.
 We had the spiritually hunger gather, from young mothers with children to the elderly. Seeing the sight of them worshipping, praying and studying the Bible together truly was an amazing miracle and I praise the Lord as I behold His wonders and glory.

 Along with the normal group of attendees we always have a few newcomers. For example:
 The elderly couple that I prayed with at the closing of the meal distribution on Saturday the 19th and who live in a nearby temporary housing site came for their first time to one of our Bible studies. During the tea time my wife was able to spend some time talking with them.
 Please pray that from among this group of 40~50 people many would find the hunger in their hearts filled solely by the knowledge of Christ Jesus and that many would be saved.

 Finally, starting in June, we will begin holding worship on the second (10th) and fourth (24th) Sunday afternoon of the month. Along with that we will also be holding Sunday school.

Please consider praying and supporting our work.
 After the Bible study, the ministry staff and I laid out our store of relief goods and clothing as always, but more than half of the items are winter weather wear and our spring and summer items are running low. Also, food items are running out of stock. I ask that you consider helping in this area in anyway possible.
 Thank you so much for your precious gifts, understanding and prayers towards to the relief work.

Please follow this link and scroll to the bottom of the page to view more pictures of this event.
Praise the Lord.

 Thank you all for your prayers and support for the relief work of the Higashi Matsushima Amazing Grace Center and for the healing and salvation of souls in the disaster area.

 Thanks to your prayers, we were able to hold the 28th meal distribution on Saturday the 19th with good weather and the blessing of the Lord. It was raining up to the day before but thankfully stopped in time for the event.
 For this meal distribution we had ministers come to help from the Shinohara, Shinakano, Yokota, Fujisawa, Hachioji, JyuJyo, Yamagata and Izumi churches as well as the center staff.
 This time around the superintendent of the Northwest district of the Philippines' AG, pastor Biligracia, and that same district's previous superintendent, pastor Lumbo, arrived the day before the event with the Shinohara team and helped with preparations. We were also blessed to have the ever present and helpful local welfare committee members Mr. Shiroma, Ms. Kikuchi and Ms. Takahashi (also Ms. Nasuno and Ms. Sasaki who were only able to help with the preparations for the event) help us minister.

 This time the event was separated into three sections: first the meal, second the distribution of relief items and third a performance. While waiting for the event to begin, people gladly listened as members of the Hachioji church performed two readings of the book "You Are Special".
 At the same time on the outdoor stage the all ladies worship team from the Izumi church held two consecutive performances. All the ladies in the worship group were also responsible for the meal distribution so they had to carefully divide their time. Their clear voices rang out from the stage filling the air of Higashi Matsushima, even reaching the drivers of the cars stopped at the red light of the nearby intersection.
 In addition we had a man from the Hachioji church entertain with his Chinese spinning top and after the book reading pastor Mikiko Wada sang some solos to everyone's delight.

 This time around we had about 400 disaster victims attend. Near the end of the day's event I spoke with an elderly couple who live in the temporary housing site at the Yamoto neighborhood park and who came for their first time. They nonchalantly told me, "Our house, our fields, everything was swept away by the tsunami. It took our entire field and crops in one clean sweep." Through feelings of loss and futility caused by losing all they had the couple continued to share with me about their current situation. I encouraged them to come by the center anytime they wanted and I took a moment to pray for them. During this most recent meal distribution opportunities to meet, share and pray with people, just like this elderly couple, were numerous. There were also a number of junior high girls from the same temporary housing site in Yamoto who had received support from the Hachioji church and so they were all able to come and share in some wonderful fellowship.

 There are many disaster victims who are still awaiting help and relief. There are numerous people who have no hope for the future and who are living in anxiety and pain. How much can the work of the relief center meet their needs and to what extent can it quench their thirst?

 I always receive encouragement from the scripture "'Not by might nor by power, but by my Spirit,' says the Lord Almighty."(Zechariah 4:6). Through your offerings and the donations of relief items we are able to daily respond to the many and varied requests of the disaster victims. Everyday we pray that we can love the people through the Holy Spirit and we pray to receive strength and wisdom regarding the relief work. I would be so pleased if you would join us in praying for our current and continuing relief work.

 Currently at the center we are receiving many requests for summer clothing and for food products. Please consider helping in any way possible with donations and remember there are also endless opportunities for ministry at the center.
 We would really appreciate anyone who could come and work as a hands on volunteer; just drop us a line.

 The following is the upcoming schedule for the center:
22nd(Tue)"Word and Tea"
  29th(Tue)"Tea and Talk"
  31st(Thu)June relief trip to Rikuzentakada city
3rd(Sun)The first Sunday worship service held at the Higashi Matsushima Amazing Grace Support Center.

  16th(Wed)29th meal distribution & "Kid's Festival" led by the Hachioji church
  24th(Sun)2nd Sunday service at the center
  26th(Tue)"Tea and Talk"
     Please keep these events in your prayers.

Thank you so much for your thoughtful prayers and precious offerings towards the relief ministry.
Please follow this link and scroll to the bottom of the page to view more pictures of this event.
Praise the Lord.

 Thank you for praying for and supporting the disaster victims and the relief work.
 A year and two months has flown by since the Tohoku earthquake. Relief work from the Higashi Matsushima Amazing Grace Relief Center to the heavily hit areas of Ishinomaki and Higashi Matsushima continues in a daily basis.

 Even still there is an unending stream of people coming to the center seeking help and the staff is working hard to respond to their various requests. We have entered the season when many people come looking for summer clothing but we are currently under stocked. There is a great need for different food items as well. Please pray that there would be enough relief items to meet the needs of the disaster victims and please help in any way that you can.

 On Saturday the 12th we held the second movie viewing event at the center and featured the film "Mother Teresa". Everyone that came joyfully sang the worship version of the often sung "Furusato". They also enjoyed the song "Musunde Hiraite" which Shikoku district superintendent pastor Takenaka, who recently visited to encourage us and see the center, had taught us.
 After the movie we had a time of snacks and chatting. I am sure that everyone who came and saw the movie was touched and saw the abundant love of God. Among them you can see a number who are giving their hearts to God and others that He is eagerly seeking after.

 And starting today, Monday the 14th, we began the "Amazing Grace Kids Brown" children's English class in response to the requests of numerous mothers. For our first class we had 7 students and their guardians attend. I would really appreciate if you would pray that through this English class that people would be touched and begin to seek after the Lord.

 On Saturday the 19th we will hold the 28th meal distribution. This time we are planning on having nine different AG churches come together to minister. We have arranged for the first part to be the food, the second part to be the relief item distribution and the third part to be worship and the Word held on an outdoor stage. Some members of the Hachioji church are also scheduled to give a reading of the Max Lucado book "You Are Special". Please pray that every aspect of this 28th meal distribution will be done through the love of God and that His love will be clearly expressed to the disaster victims.

 Right now, from Tuesday the 15th to Saturday the 19th, a masseuse from the Fujisawa church and some of their colleagues are staying at the center and giving free massages. Please pray that this ministry too will be blessed and used.
 Thank you everyone for your support and prayers.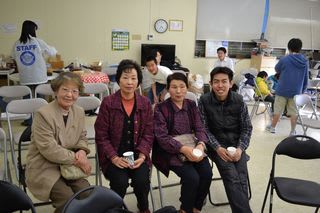 Praise the Lord.

 Thank you for supporting and praying for the relief work being done from the Higashi Matsushima Amazing Grace Support Center as we reach out to Higashi Matsushima, Ishinomaki and Rikuzentakada.

 I am so very thankful for all those who attended the "Tohoku Rebuilding Service" at the 39th JAG General Council and for all of the prayers and for once again giving offerings to the relief work.
 Through your prayers and support, your encouragement and even more your willingness to come on site and minister to the disaster victims the relief work is daily continuing.

 Even yesterday the 10th, we had an endless stream of people seeking assistance: picking up requested items or requesting new things. Some of the folks enjoyed time drinking tea and chatting with the center staff before returning home. At the center we are regularly playing a Christian evangelistic DVD; allowing for people to hear worship, testimonies and the Word. We do it in the hope that disaster victims who come to the center will naturally encounter the gospel and in addition all of the center staff are prayerfully welcoming those who visit.

 Yesterday pastor Ito and his wife as well as brother Furuhashi went to Rikuzentakada city to provide relief items for 6 families. There many people were killed or went missing because of the tsunami and the city center was completely destroyed. Thanks to all of your prayers and offerings we were able to start relief work in Rikuzentakada on April 11th, just one month after the earthquake and to date we have gone about 40 times to minister.

 We loaded up some green tea and muscle relaxing compresses from the center and then stopped on the way at a grocery store in Kesennuma to buy 6 families worth of food; all in all it took 4 hours to arrive. Executive committee members pastor Odajima and pastor Funatsu along with missionary Brian Snider, who had been inspecting the disaster area and the Kamishi support center, stopped by at Rikuzentakada on their return trip. They came along and ministered with us at a house church meeting which was held in the Takahashi family's residence in a temporary housing site.

 The Takahashi's house was up on high ground but with the 18 meter (60ft) high tsunami it was destroyed and now they and their son that previously lived with them are separated into different temporary housing sites.
 After listening to the Takahashi's harrowing near death experience with the tsunami the pastors shared that they were glad that the Takahashi's are alive and that there is surely a purpose for them being spared.

 We shared some worship songs then pastor Odajima prayed. That was followed by a message from missionary Brian Snider based on Hebrews 12:1, 2. Mr. and Mrs. Takahashi received the Word well and I truly believe that their hearts were touched. We closed with some more worship and a benediction by pastor Funatsu. The presence of the Lord was there and it was as if that temporary housing unit was holy ground. We shared some tea together and then sadly said goodbye as we closed the house meeting and bid farewell to the pastors.

 We continued on to visit some other people who were waiting for us. We distributed relief items, talked and prayed with them and then left Rikuzentakada knowing that we had shared the love of the Lord. It was late at night by the time we arrived back in Izumi.

 I would appreciate if you would pray that as the rebuilding in Rikuzentakada continues, our relief activities would bring about the real work of spiritual rebuilding and salvation.
 All glory belongs to the Lord.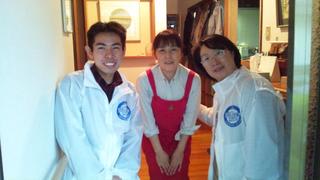 Praise the Lord.

 Thank you for your prayers and overwhelming support for the disaster region, its churches and its people.

 As part of the 39th JAG General Council, the morning service on Friday the 4th was designated the "Tohoku Rebuilding Service". General superintendant Hosoi shared an encouraging message entitled, "Lets take the love of Christ to the disaster area". During the service the Tohoku district superintendant shared about the ongoing relief work, expressing gratitude for the work so far, sharing about the work going on in each region and sharing about current needs and future vision.
 The following is a report for those who were not able to attend.

 I am so thankful for all of the supportive emails, phone calls and words from the churches around Japan to the churches in the disaster area following the Great Tohoku Earthquake of March 3rd last year.

 At the moment of the earthquake the churches of the Tohoku district were in the protection of the hand of the Lord. Even with such great quaking, there were some items broken in the church buildings and slight damage to parsonages but there was no major damage to any buildings. Also, there were no physical injuries to pastors or church members alike. Unfortunately though, a number of church members' homes did suffer partial or complete damage, requiring them to make repairs or even move house.
 In addition the members of the churches in Fukushima have had to struggle with the troubling effects of radiation from the nuclear reactor incident.

Prompted by the overflow of the love of Christ, the AG churches of Japan and even around the world, have offered prayers and support that have brought help and comfort to the churches in Tohoku.

Thanks to the donations of everyone around the country, church sanctuaries and church members' homes have been repaired and others have been helped to move into new residences. Also, the offerings have helped to perform various radiation cleanup activities for the churches in the Fukushima area. With all of your prayers and support the churches throughout the disaster area were able to quickly get back on their feet, and then quickly begin helping the neighboring disaster victims. Even today that relief work is continuing.

Thanks to the prayers and support of the general superintendent, the pastors of the executive committee, the pastors of the disaster relief committee, pastors throughout the country, the bible school president and students, believers from around the nation, nay around the world, we have been able to do relief work into this day.
 We, the members of the Tohoku district, thank you through the abundant love of God and thank you from the bottom of our hearts for all of the prayers and support that we have received to this day.

So, as the representative of the Tohoku district I would like to take this moment to report to you about our vision, the work done up to this point and our plans for the future.
 Seeing as the disaster area in Tohoku covers a very large area, I split the area into 3 sections according to the AG churches present making the Aomori Iwate section, the Miyagi Yamagata section and the Fukushima section. We have appointed pastors to oversea each section and coordinate with the pastors in their respective section regarding future relief work.

▼Aomori・Iwate section

 In November of last year the "Kamaishi AG Support Center" was opened in Kamaishi city which is in Iwate prefecture. Pastor Shibuya of the Aomori church has been the main leader there and has been busy distributing kerosene heaters, kotatsu, blankets and other various household heating items to the disaster victims. In addition they have been going to the temporary housing sites; drinking tea and chatting with the victims there about their disaster experiences and their experiences in the evacuation shelters. There have been a number of opportunities to hear people's worries and pray with them.

Currently, they are distributing what they are calling the "Aomori Love Pack" which includes rice, miso paste and other common food items. A current prayer need is for a full time resident volunteer minister to be provided. Please, by all means, continue to help support this center and pray that God will provide a full time volunteer for the Kamaishi.

▼Miyagi・Yamagata section

With the members of the Izumi church as well as many other volunteers the relief work started in the city of Higashi Matsushima ten days after the earthquake and then in Rikuzentakada city in April of last year. Even now the relief work in both areas is continuing.

Starting in May we opened the "Izumi Support Center" which has the duel role of relief supply warehouse and volunteer accommodations. We were able to start by clearing mud out of people's homes and distributing meals with the help of our regular staff and many other volunteers. And with the gracious donations from the churches around Japan, the US Assemblies' Convoy of Hope and Samaritans Purse we were able to pass out numerous relief times to the disaster victims.

Then from June to August, with the help of the US Assemblies' missionary fellowship, Convoy of Hope and Teen Challenge Japan, we were able to distribute 150 electric fans and 600 bicycles. In October we opened the relief center in Higashi Matsushima city which is manned by our regular volunteer staff. There they have been working daily providing items such as kerosene heaters, kerosene, blankets, clothing, food items, sandals, etc to over 1,200 households in the Higashi Matsushima/Ishinomaki area. Also the monthly meal distributions are always brimming with disaster victims, making for an atmosphere of fellowship and healing.

Starting last year we have held concerts, movie viewings and fellowship events which help with emotional relief and starting this year we have begun the monthly "Word and Tea" event. This has begun a real spiritual relief with a few people already confessing Christ and we are expecting a soon coming harvest. So, starting next month we are planning on having "Worship and Sunday School" on Sunday afternoons at the center.

In addition, Sendai Christ church's pastor Kawakami and pastor Motoe have been busy working in communities along the coastline cleaning mud out of houses, cleaning the homes, providing meals as well as distributing handmade goods such as bags to the disaster victims. Recently they have been visiting temporary housing sites and passing out blankets handmade by American christians and homemade jam all with gospel tracts.

▼Fukushima section

 With Koriyama churches' pastor Sanga as the leader, many volunteers have worked to provide relief to the nuclear reactor disaster evacuees who were living in the "Pick Palette" evacuation shelter. The evacuation shelter closed in June and everyone was moved out to rental properties or temporary housing sites, so they began providing housing appliances in what they called "Life Starter Kits" along with a "Second Box" which included shampoo, toilet paper and other daily necessities. Because of radiation worries they distributed "Food Box" with produce from southern Japan, also summer clothing and again with the help of the missionary fellowship they gave out kerosene heaters and bicycles. Then in October and December they held the "Love Kids Festival" for the children of the disaster, creating a place for disaster victims to meet up and interact. Also, with the cooperation of Convoy of Hope they were able to provide kerosene for people. Currently they are focusing on emotional and spiritual care through their "Bonds of the Heart" cafe and events.

 Additionally, the church in Fukushima city is busy providing relief in their pastor Mamoru Ito's hometown of Minami Soma. At the Iwaki church they are cooperating with a city wide relief network, bringing relief to the nearby evacuation shelter which was populated by people who evacuated from the town of Naraha due to the nuclear disaster and are now ministering to the same people as they have moved into temporary housing sites.

 Because of the radiation issues in the area we have been held up in opening a support center along the Fukushima coast. But now that the restrictions have been lifted and residents are slowly moving back into their homes we are aiming to open a support center that can help the northern part of the coast like Soma and Minami Soma cities as well as the central coastal area like the town of Tomioka. Please keep this in your prayers.

○Looking Ahead

 Seeing that throughout the disaster area the degree of damage and support varies there are some areas which are still not being rebuilt and where some are still waiting for needed relief. This means that there are still a number of disaster victims that are in need of relief items.

 There is also an abundance of people who are struggling with problems such as PTSD and are in need of emotional relief. And there are many who lost their home and possessions and have nothing sure and stable in their life leading them to seek after true salvation. Please do not forget these many that are in need or relief, instead I ask that you would continually keep them in your prayers.

 Your prayers and love inspired gifts and offerings are meeting the needs of many disaster victims and savings lives! They are healing and comforting the hearts of many! Many lost souls are listening to the Lord, seeking Him and receiving salvation. In this disaster area that is full of pain and sadness, I would like for you to see a vision of the Lord's work through"We the Assemblies' support center"leading many people to know of the Lord, to being saved and culminating in a great harvest of souls.

 I ask that each of you would consider working alongside us in this precious relief work. Please, by all means, pray for the disaster victims in Tohoku as well as for the churches, both pastors and believers, who are serving within the Tohoku district.

That's all. Thank you for reading through this long post.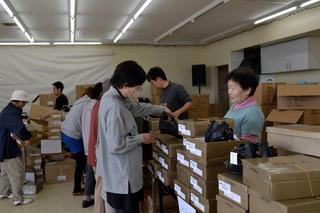 Praise the Lord.

 Thank you for praying and supporting the relief work that we are doing at the Higashi Matsushima Amazing Grace Relief center.

 Everyday, relief work continues at the center and on Saturday the 28th we held a "Ladies Sandal Giveaway".

 The other day we received a large amount of ladies sandals from superintendent Hosoi and we had thought incorporate then into our normal relief items but because of the large amount we decided to make them part of a special give away event.

 Contrary to our expectations...a lot of people turned out! And similar to the meal distributions there was a long line of ladies waiting for the event to begin, pointing out to each other pairs of sandals that they wanted.

 This time the center staff and volunteers from the Izumi church, Mr. Shiroma, the neighborhood welfare officer and Ms. Atsuko, who came to know Jesus through the relief work of the center, served together making a team of about 10 people (On the day of the event I was not present because of ministry at Shinsho Christ church in Tokyo, but I am so thankful that everyone worked together in unity).

 Please pray that those who received sandals will know the love and healing of Christ and that many of them would begin to seek the Lord.

 The center will be temporarily closed from the 3rd until the 7th so that we can attend the Assemblies' general council and then will reopen on Tuesday the 8th. We will then hold our second movie viewing on Saturday the 12th.
I would really appreciate if you would pray that through our relief work many disaster victims would receive the comfort and salvation of the Lord and also pray for the ministers who are ministering on a daily basis.