Im motherfuckin dump
I cant stand in front of you
you are too dump to be with her.
how dare are you with her?
why dont you try to be strong?
its been long time to type the diary here.

hey whats up? if somebody still check my page haha
I m gonna go back to Japan.


ニマンのイタズラ
How Do Ya Like
Ive had nightmare in these day, about 3 days.
The first one was pretty,,,funny ,cute ,I think.
I still remember that hahaha.
I had that nightmare in 8/20 in the early morning I think.
because I woke up by that nightmare at 6o'clock.
I was sitting in the passenger seat, in the car my friend was driving. then we found a paddle in the allay.
and puppies were sitting and soaked, and they looked poor.
so we stopped the car and rescued them though, the paddle was pretty deep, about 5cm deep?
the little Labradors were shivering with cold from wet. they were so cute.
but, my new Lacoste's shoes were completely soaked by the dirty paddle!!
oh my god! but I cant get out from there, because there were still about 20 puppies soaking in the water.
so,we picked them up and somehow we swam in the waterway.
now my shoes are completely ruined. it was filled with full of water,all the leather was all spoilt.
it was expensive shoes,,, I was so disappointed
but I couldnt get angry, because of the puppies
It was happened,,,I could not avoid that,,,but,my shoes
so I went to a kind of vertical pinball, you know Pachinko, and tried to get back the lost, to buy new one
then I woke up. I quickly saw my feet, and checked the shoes.
of course there were not any shoes,just feet.
hmmm,,,it was the first cutest nightmare I ever had...
2nd one, I dont really remember,,,but it was scary one,,,I was chased by somebody,,I think it was like a Biohazard,,,
the 3rd one that I had in this morning was pretty creepy.
I died in dream once!!
I was dating with a ,,,creepy women,,,somehow,,,I dont know...
I dont know, I think I was charmed by something evil spell or power.
she was tall,about 10cm taller than me, long black haired hanging down to her chest,,not well treated hair, untidy,,
norrow vacant-eyed, pale white skin, with sunken cheeks,bloodless lips,,,
she was wearing white,,,I think white ragged one-piece.
she didnt have shoes.
we were looking at the furniture store, and she kissed me, then suddenly I came to the vacant same shop where I was. but I cant see anybody.
I felt I was dead. my soul was sucked by her.
somehow, I revived and tried to tell to my mom, grandma, my friends that she is a monster, going to kill me.
but I failed. I ran away, drove a car trying to kill her.
I thought I succeeded. struck her desperately, pushed her down from the running car.
I thought I killed her.but I didnt.
I notice she was standing behind me by the shadow. I was so scared, she is still alive?? what!
what I saw in the next was she choking me by strip.
what a creep
but Im having some fun with those dream. I dont dream usually.
another nightmare is Wenche's short temper.
shes just crazy.
I cant believe it
8/16
I ate huge whole lobster. I was so excited of the first time lobster that i was almost going to start jumping and dancing
it was a huge lobster. huge and shiny scarlet red, showing his powerful claws.
and also , it was yum yum yummy
it tasted like crab, juicy ,tender and chewy
I also ate premium rib, it was great red rera meat.
after that I was so stuffed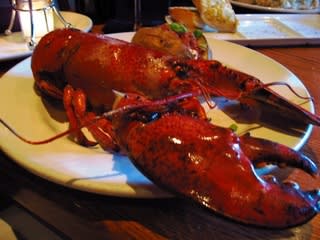 8/17
we met Mr. Takizawa, the tour guide for the day, he is living in Kelowna for ahh,,,,about 10years now.
He is doing export wines to Japan, so he well knows about winerys
We went to the Mission Hills estate winery, where I remember last year that I went there with Nanako
The memories just apeared in my mind when I saw the beautiful scenery from the top of the hill, surveying all the vineyards and the lake, the moutains spreading out.
It were good memories
Maybe I should get my albums out of the shed,eh
we went to the other small winerys in west side, Little Straw, and Quail's Gate. in the last, we went to Summerhill winery where was not good because there were tons of Chinese tourist chatting so loud and ,what annoyed me at the most was the boy showing poor piano techniques!!
at the night, I got sooome present from my dad and grandma
the pare of Lacoste's shoes and nice sweater
I really desired for Lacoste's shoes for long long looong time
mission hill winery
8/18
We left Kelowna and went to Vencouver.
In the morning, we went to the cafe in the hotel, I ordered bacons and scrumbled eggs and pancakes.
but, what the waitress surved me was just ,no not just, 3 huge pancakes and chunks of scrumbled eggs!!
"I didnt order 3 huge pancakes" I said. then she just tapped my shoulder and its ok ok.
ha! so you mean " dont be angry dear, its ok ok, just a pancakes, eat and go. its ok boy
"
what a,,,,,,,. what I felt was she making fun of Japanese, because Im Japanese, she thought Iwont blame anything.
Maybe I was a bit paranoid. I think so. But,I still dont understand what she had done.
Tapped my shoulder, thats it? smiling at me? what do you mean? can't you speak?
ha,,I wanted to eat bacon that morning,,,,,,
whatever it was a bad hotel. the room was nice though
we walked around the town, did window shopping around Robson St. where is the most popular shopping Street in Vancouver(like Harajuku I will say)
my annoying foot start aching thousands of times
I didnt say anything though?
We went to the Japanese restaurant which Korean manage.
we ordered too much again....I wanted to eat whole of them, because its good hey?
the food that I had hard time to finish was カツどん。it wasnt カツどん!
they didnt boiled with eggs
I call it as Katsu on the rice with green and red peppers...
maybe I should have taken picture of that
8/19
We went to Victoria.
ahh,,,it wasnot really fun to go there
oh, looking out the ocean was really great, I love the sea
ahh, the boring part was,,,Bouchard garden. not butcher's garden, hahahaha
We had fun about that things though hahaha. my dad is crazy haha.
I dont know, Bouchard Garden is the huge garden. I saw tons of beautiful colorfull flowers. It was beautiful
But,,I felt it was boring. I wanted to go there with,,,,,,,haha you know that
the city of Victoria was pretty boring because of my leg, started aching!!
how bothered me it was
Victoria is beautiful, really nice place.
on back way from Victoria, I was so excited
BECAUSE! We saw the killerwhales
they swimming far away from our ship though, I still impressed very much.
I wonder how impressious if I can see them just in front of me,,,,
I will gaze them, I won't be able to take my eyes off from them.
I think, they are beautiful and strong, amazing living things.
whale watching is the one of the thing that I would have done before I die.
8/20
we met Wenche. she took us to the store where I wanted to go
the shop name was,Holtrentnew or something like that.
it was great shop
the all the stuffs are so expencive
but they are really really nice
I was lucky
because
I can ask my dad and grandma for my presents
yes
I got two of nice clothings
yes
yes
thenn
we went to Grouce Mt. in North Vancouver.
The gondola which we took to go to the top of the Mt was pretty nicee
the gondola was not slow like gondolas in Japan. those one are really fast
I got pretty excited for that
we had good time on the Mt
we drove around Stanlypark, it was beautiful.
picture of Vancouver downtown from Stanley Park
8/21
we went to Banff.
the hotel in Banff was crazy! the hotel was really huge, like castle!
its like Hornted Mantion in TDL inside!!
we went to downtown and I got a new sweater for next day's tour
that we go to the gracier
we ate F_O_N_D_U_E at that day.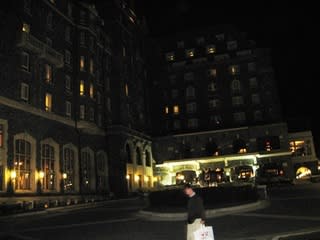 Banff Springs
8/22
we went Lake Luise where is really beautiful emerald-green lake and we saw alot of great mountains.
BUT, what I really impressed was the Columbia Ice field
There are gracier spreading about 325km2 areas,spreading down for 300m deep!!
woh, thats crazy! it has been there for over 3 million years
I went to there, and I walked on that
I had really really good time on there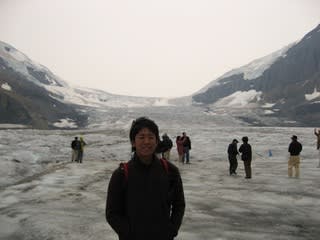 it was pretty cooold
ahhh,,,I think Im getting tierd of writting those "SHORT NOTE"
we had Ra-men at that day
8/23
we went to Takawow fall which was huge and amazing.
after that, we went to Emerald lake. I asked my dad to ride a canoe
he was not anthusiastic on that though
It was fun activity
paddling a canoe wasnot hard, it get faster really easily.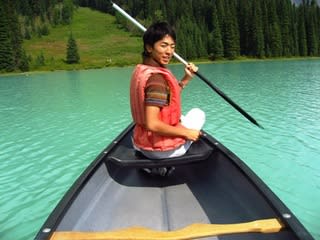 it was fun
in the evening, they took me to the French restaurant
which was really nice
in the last of the course, I got a dessert with candle on
the server lady sang the birthday song for me
hmmmm, I love birthday, I love everybody,,, oh I love birthday song
I became 20 now
yahoo
happy birthday to me
8/24
the trip was finished. this was the last day of travell.
it was short, but I made lots good memories
I wont forget that.
we could not have the time for good-bye
there was a loong line before the security.
my grandma went to bathroom before the entrance of the security. so I had to take her back and when I took her to the line, they had to rush to get in.
I didnt give them hugs and just said" see you later"
I was so sorry....I should write letter for them..
it was great trip, I wont forget