On June 10th and 11th, we had a company trip to Kobe, western Japan, as part of events commemorating the 120th anniversary of NiKKi Fron Group. This trip was presented by Shinwakai, an employee group for friendship in our company.
Western Japan entered into rainy season just 1 day ago, but luckily the weather was so fine and comfortable on the 1st day and we had a wonderful time sightseeing Kobe city and cruising in Kobe bay area.
We stayed at Arima Gyoen in Arima Hot Springs, one of the oldest hot springs in Japan.
The dinner party was so excited and we deepened staff-to-staff exchanges.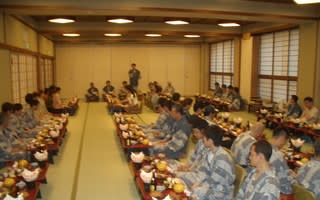 It was unfortunately cloudy on the 2nd day, but we continuously had an enjoyable time.
We visited Himeji Castle, one of the UNESCO World Heritage Sites, which had been just repaired.
The Castle is frequently known as Shirasagi-jo ("White Heron Castle") because of its brilliant white exterior and supposed resemblance to a bird (a white heron) taking flight.
It was so beautiful with white mortar abundantly used in the whole building from walls, the castle tower, to openings among roof tiles.
One of our products, RarePla® (Rare Plastics) was also featured as its whiteness, so we felt particularly close to Himeji Castle.
This company trip refreshed us and we really had a wonderful time!