On Wednesday April 27th, Nagano Gov. Shuichi Abe and members of Industry and Labor Department, Nagano prefecture, visited and observed our headquarter plant in Nagano city.
Gov. Abe had planned to understand how manufacturing industry in Nagano works now and we eventually got this honorable opportunity to welcome his visit.
At first, our president, Mr. Takayuki Kasuga gave a presentation about company profile, following our chair person, Mr. Hidehiro Kasuga illustrating our business history. And then, Gov. Abe watched all manufacturing sites of our business.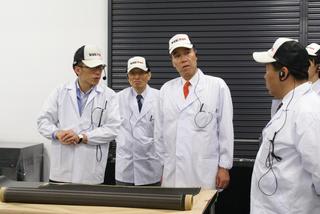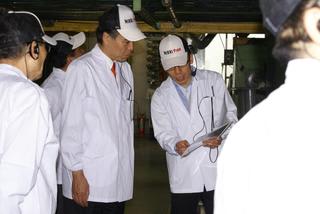 (Gov. Abe listened seriously to Pres. Kasuga's explanation)
Gov. Abe carefully listened to our illustration about how to produce materials and molding techniques, watching actual production processes and complete products, and gave us concrete questions about manufacturing methods and competitiveness enhanced by them.
After the plant tour, we made a hot discussion with our management team attending.
In this discussion, Gov. Abe clearly illustrated his idea; on government side, he will promote to provide productive and attractive education systems in order to secure more talented individuals in Nagano, and he wants us, on business side, to actively welcome internships or other educational programs.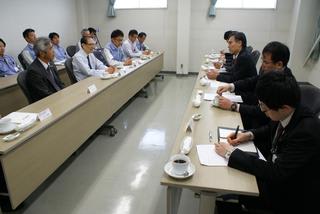 (A discussion with our management team)
(A commemorative photograph with Gov. Abe and members of Industry and Labor Department)
Please allow us to take this blog to express our sincere gratitude for Gov. Abe's visit today.