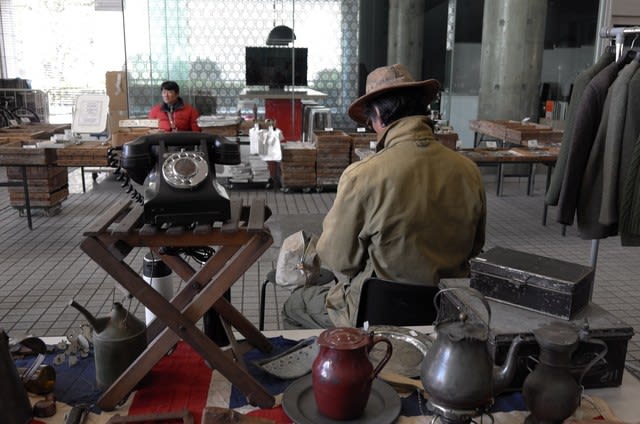 I have made it a rule to call at the branch shops of antiquarians in Shibuya every weekend since the last year. I kill time there while I wait for my daughter attending a ballet school. Recently, however, I find it pleasant rather than boring to browse the shops.

The pleasure of looking around the shops is not to find an antique for which I have seriously looked, but to come across one of which I have not ever thought. For instance, in the last weekend, a metal cigarette case attracted my attention. It looked intriguing with a world map which was engraved on its flap. I imagined stories of Five Ws about the case during a few moments; how old is this case? Did the ex-owner travel around the world with this case?

If I find an intriguing antique, however, whether I buy it or not is a different story. An antique is sometimes too old to be immaculate for an original purpose. Even if the antique can be used for the original purpose, it is not necessarily needful for everyone. This cigarette case is unavailable for me, because I do not smoke. Nevertheless, I imagined for a little how to use the cigarette case in a different way from the original purpose. It would be an excuse for myself to buy it. I thought of using it for a business card holder. What do you think of this?

Further, if I cannot think of a different way of using the antique, I can hardly put off the decision if I buy it or not until the next weekend. It may be sold out sooner if I don't buy it now. The antique in front of me may be not useful and also cannot be used even for a different purpose, but, must be the only one in the world. I have to draw the conclusion immediately.

With this and that, I would not stop browsing the branch shops of antiquarians for the time being...

Ooops, do you think I bought the cigaret case? The answer is no. Because, I spent too much time there, and had to collect my daughter in a snap!

- The Days I Spent With Leica -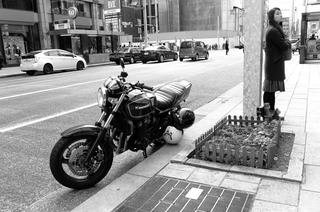 The Days I Spent With Leica ~ "Bigtwin Bike" ※The photo is not the one.

I like a motorcycle (bike). I don't have likes and dislikes about a type of a bike. Any bikes look fascinating with or without high performance for me. Further, I don't mind riding it even in the scorching summer or in the freezing winter. If you ask me, however, to choose the best in the types and the seasons, I choose a bigtwin bike and autumn.

As you may have an especial song which encourages you in facing a hardship or makes you shed tears for unforgettable love, you may also have a special novel which affected you deciding something special. I came across such a novel in my younger days. The story has no violence and sex. The only memories of adolescences are described simply in a sentimental way; in the late October, a young man is going uphill on a gentle mountain road, riding Kawasaki W3. It is the bike of a bigtwin (vertical twin) engine of 650cc. It is the first time for him to visit his hometown in four years after the high school graduation. He is going to visit his ex-high school teacher before joining the high school reunion. His house is a small, but swell French restaurant. It has been run by his wife. He and his close friends used to hang out there after the class in high school days. The friends are also supposed to gather there today. In the deepening autumn, the exhaust sound of the vertical twin engine echoes in the mountains. The stage sets well. Then, flashbacks of young days start...

This novel imprinted my way of enjoying a bike, a solo tour, and also my favorite season, autumn, into my subconscious.

When I was young, however, I didn't ride a big twin bike. I used to go for a ride with my friends here and there, everywhere in Japan, though, I rode multi cylinders engine bike. Because, we liked to make a mock race on a mountain road, and needed the fast bike so as not to be fall behind the group.
Time passed, however, I became a seasoned rider as I knew it before. I am not as interested in a group tour and the mock race as I used to be. I don't have to hurry in the travel, and also in life anymore.
So, I want to ride a bigtwin bike. It can be best company for traveling alone because of its fascinating exhaust notes and comfortable vibration. It is difficult to explain them in sentences, however, I think you can understand them if you have heard the V twin engine sound of Harley Davidson on the street. The sounds of a vertical twin and a V twin engine resemble, which sound strongly and heavily like beating a big drum.
I like the both bigtwin engines. The former, however, sounds a bit lightly and gently. A bike of a vertical twin engine may be more suitable for the trip in Japan. You can enjoy the exhaust note and also comfortable vibration as long as you can. The sound will lure you to go furtherer.

Now, I grow up, marry and have the little twins. I rarely have the opportunity to go out alone for my leisure activity, to say nothing of going for a ride even in the consecutive holidays. The certification of motorcycle safety inspection of my motorcycle, YAMAHA SRX 600, a single cylinder engine, already passed its expiration date many years ago, and that motorcycle has remained dormant in my garage since then. Nevertheless, when another autumn comes, I always remember the days when I rode a bike. Because, it is near the end of the year. Everyone becomes sentimental. So do I. The sky seems to be higher than summer, and the air is crisp. When you ride a bike and go on the road with dancing withered leaves in the wind, you must feel as if you became a part of the wind. If you experience this situation even only once, you must understand what I mean. It is the moments of euphoria that only a rider can feel. The autumn is the best season for riding a bike.

There is nothing more fascinating than riding a bigtwin bike in autumn.



Last night, I posted my favorite photo taken by Leica with the concerned my musing. Though it was my first trial, the number of access to this blog swelled to my surprise. I reaffirmed the greatness of the name, "Leica"...

The Days I Spent With Leica~"Nightfall"
This is the title of the photo. I took this photo many decades ago in Paris. It was the first city which I visited as a foreign country in my younger days. It was too long ago for me to remember the camera and lens I used then; however, even now I can remember the atmosphere of Paris in the nightfall to see this photo.

As I am going to keep posting them once in a week, maybe in a weekend, please boost my blog, leaving any comment to my photo and musing in English possibly.
I like to take photos. Above all kinds of photos, I like a snapshot on the street. I belong to a camera club in Tokyo, and sometimes display my photos to its exhibition. However, I wanted to show my photos to more people. I have already tried several means for this purpose; Firstly, I posted my photos to Facebook. I quitted it soon as I knew that the people whoI like to take photos. Above all kinds of photos, I like a snapshot on the street. I belong to a camera club in Tokyo, and sometimes display my photos to its exhibition. However, I wanted to show my photos to more people. I have already tried several means for this purpose; Firstly, I posted my photos to Facebook. I quitted it soon as I knew that the people who access my Facebook are restricted. Secondly, I posted ones to such web sites for amateur photographers to post their photos as GANREF and PHOTOHITO. I stopped it again as I felt it meaningless that I had to stay anonymous there, most of the comments that I received were flatteries and I had to write back to them as a courtesy. Thirdly, I posted them to Facebook groups of amateur photographers which are run by foreign people. The reasons why I joined the group are that the foreign members rarely leave me a comment, however, if left, they are not flatteries, but reasonable. And I can make friends with them, and boost up my command of English.

My third trial was successful. I have been posting my photos there. Further, I decide to post the same photo in this blog for the longtime audiences, and change the title of this blog that I had used for many years since my twins' birth. I am pleased if the audiences would enjoy my photos along with the related musing as before. And also the other new people who love a photo would access to this blog easily by searching a keyword included in the title - Leica. I know that a cameraman should not explain the photo. The photo should tell itself. However, this is my blog, and the photo comes later. If I omitted the musing and posted only photo, it would be like putting the cart before the horse.

The Days I Spent With Leica~"Indifference"
This is the title of this photo. What makes me bothering are electric games. My son, who used to like to read a book, draw a picture and so on, has been into playing the games for a few years. It started from a simple game in my iPhone. At first, he only sometimes borrowed my iPhone and played the game. However, he came to occupy one, and the playing time became longer and longer day by day. I understand that electric games are interesting as I played Invader Game in my younger days. But, even then, I only played it for taking a breather. I am afraid that he has been into the game excessively, playing the game not only in the house, but also in a nearby game arcade.
I took this photo in a near aquarium when I and my son visited there. The photo is beautiful; however, I was sad that my son did not show interest towards mysterious jellyfishes, but only concentrated in the game...


You don't know when a shutter chance for taking a good photo turns up. You can make it a rule to carry a camera with you wherever to go. If you never want to miss the shutter chance, you always have to have a camera on your hand... It is not practical, however, to carry a camera exposed as it sometimes rain or else. You need a camera bag. The bag should be your favorite one and also as small and light as possible to continue the aforementioned rule practically.

As a matter of course, prior to choosing the bag, you choose your favorite camera first. Although I chose my favorite cameras several years ago, I have ended up exchanging my bag a few times since then as the inner sizes of all bags didn't fit my cameras rightly. But, I could barely settle in the two bags recently. One is for taking a walk and snaps with one camera. The other is for a little bit more serious photography with two cameras and more. The former is "Billingum for Leica". The latter is "Harvey Messenger Bag of FILSON".

I got the package of FILSON delivered last night. I opened the package immediately when getting home from the office. My main concern about the bag was if the inner size fit my camera suitably. The bag is a little bigger than I thought (not too big!). It is OK. And, its color showed "Magnum Black" on the website. How is the color? Does it look great? Magnum Black is deep green rather than black. I like deep green. It is also no problem. Although the little tabs with the buttons under the front two pockets seem to be fragile as someone cautioned about it on the website (please see the photo), I don't care so much. The only drawback I notice is that it smells oily a little. But, it will fade out soon during everyday use. All in all, I am satisfied with this bag. My trip to find my favorite bag seems to come to an end with this bag. I want to use this bag to a frazzle.

Might as well have your most favorite camera bag!