We often heard the phrase from the companies "employees are our greatest asset". In business, an asset is an advantage or strength-someone that adds value to the enterprise. Normally the more you invest in an asset, the more you can gain from that. Keeping in mind, companies whether small or large try to increase their capital.
Despite all the assets, there is one of the most valuable assets employees, who perform better will help your company perform better, too. That's why it's essential that you take an active interest in favour of the employees of the company.
Who is employee oriented leader? Progressive business leaders often claim to measure their success by how invested and dedicated their team members are rather than by the company revenues as these are the earned by their employees itself.
Yet today's business leaders are often running a full-time sprint just to keep up with the day-to-day demands of business. This means that human capital — is the single most important asset a company that needs to take the next step in growth and innovation.
In fact, less than 35 per cent of global leaders are confident that their organization has the necessary leadership talent and skills to achieve their strategic goals, according to a recent Harvard Business Publishing Survey of global professionals.
Employees are considered as the most valuable asset in the following ways:-
Employees are considered as the first customers of the organization. If the company is not able to make their employees happy and satisfied then they will not able to deliver efficient results which company expects and eventually reduces the profits.
1. They are
the nurturers of the companies
. Employees give their maximum strength in the goals of the organisation. Just like parents who nurture their child, care for them, similarly employees with their valuable and endless efforts to take it on the top
of the pyramid.
2.
Employees are essential
to provide goods or services which company offers to its customers. Improving employee efficiency, therefore, become major priorities. Every department comprises employees having different specializations and responsibilities, which can be in production, finance, marketing, IT, so on and so forth. The employees produce final goods,
take care of finances, promote the products and services in the market, maintain the records of the organization for decision-making, etc.
3.
Employees give their 100% to the organisation
whether it is big, small or large. The output which we get from employees is the continuous and smart efforts of the happy and the dedicated employees which helps the organisation to go on in long run. Many companies like Google, Facebook, Apple, Microsoft etc. are results of their satisfied employees.
4.
Employees are the face of the organization
. If they are happy and satisfied then it will be shown as the achievements of the organisation. But if they are not then they might spread negative words about the company even if he is working or left the organisation which creates a bad image and there will be an inefficient performance by them which eventually leads to lesser profits.
5.
Employees are the base of successful and long-running business
as their hard work and dedication help the company to reach to such position. It can be said that behind every successful company, there are hands of the good employees.
This article is written by Kritika, presently working in LegalRaasta, an online portal for Company Registration, GST Return, FSSAI Registration and other legal services.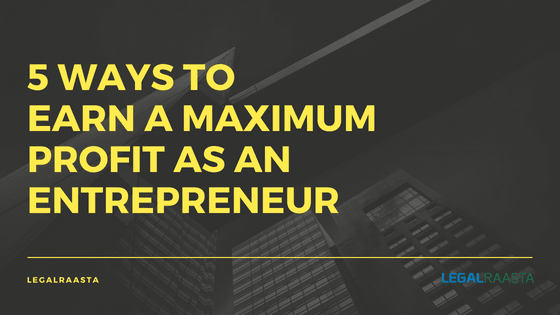 As a business owner, it is necessary to regularly and constantly find out profit-making opportunities from the business. Mostly all business have multiple ways of earning the business. A true entrepreneur is who has the ability to earn business from the business, i.e, how to make a profit using multiple ways form a single business.
Following are the 5 most possible way which will help you to maximize profit from your business.

1. Paid Advertisement
Paid advertisement is the most effective and important way of making a profit from the business. If you have a website with a huge visitor traffic, partnering with a similar company, maybe not from your competitor or rival, can be more advantageous.
For example- if you have owned a website specializing in men's accessories like watches, wallets, etc, you can earn more by having an advertisement on your website of men clothing.
Thomas Jefferson said, "the man who stops advertising to save money is likely the men who stop the clock to save the time."
If you are good at marketing online, you'll learn quickly that paying the customer is crucial to scaling your business online.
2. New additions
If you are a business owner that's succeeding in an endeavor but want to optimize your profit to a more greater extent, always try to add a new product line or a new service to create a completely new profit center. Take extra space storage.
For example- they are extending their product line by adding electric-vehicle power stations to their self-storage locations to create a more environmental friendly profit center.
Just be sure that the product is in-line with your existing product or service, market and advertise it well, and create a plan of action for implementation.
3. Referrals
Generating revenue from clients you already know you and trust your brand fully is much more cost-effective than spending money on getting new customers. If your clients impressed with the way you make the deal, they will think of making deal with you again and also give referral your way. Almost any business can implement a customer referral program by offering product and services to existing customers for referring new customers or clients.
4. Consulting fees
If you are an expert in any field, don't limit yourself in just practicing your expertise, instead become a mentor in that field who teaches others what to do and how to do, by providing webinars, seminars, lectures, etc. Getting yourself paid for seminars or lectures can become an excellent way to maximize your profits.
Search the market for what other specialists in the similar fields are charging to their customers and know what to charge.
Further, if you believe that you have more expertise then any other in your field, you have the option to charge more then others which the customers are ready to pay.
5. Arbitrage
Arbitrage is the hiring of some other person or a middleman to get your job done. Or say, you act as an agency and hire an agent for you.
You would generate as much money as you were to work alone, you can take more projects and hire freelancers to complete the project while you market.
This article is written by Naveen, presently working in LegalRaasta, an online portal for
Company Registration
, GST Return, FSSAI Registration and other legal services.
For any startup, it is very confusing that how to take stock of and complete the sales process according to the customer point of view.
There are many old ways of thinking which have either changed or vanished. A number of companies are changing their way of thinking about their customer or about traditional sales or marketing funerals.
It's much more difficult in this increasingly complex ecosystem, to define or control a single path for each of your customer.
Solvvy breaks down the customer experience into five specific components:
1. Perception

2. Interaction

3. Friction

4. Resolution

5. Communication
More importantly, it points out how critical it is for startups to understand and shape their customer experience as part of their overall business strategy. Entrepreneurs can establish a strong competitive advantage, even in crowded markets or with well-established incumbent brands, on the basis of a superior customer experience.
This is, of course, a huge opportunity.

According to the graphic, 89 percent of companies expect that the holistic customer experience will be the main basis of competition in the coming years.

But it's not just business leaders driving the focus on CX. Customers indicate that experience plays a huge role in their purchasing decisions, loyalty, and satisfaction.
In particular, it seems that consistency is a top priority for consumers.
In one study, 90 percent of consumers said they expect a consistent customer experience across every platform and device.
But it's not just a nice-to-have; customers are willing to speak with their dollars. Over half of all consumers say they're willing to pay more for a better experience.
As a startup grows, it needs to continue delivering the same level of personalized attention to customers as it did from day one.
The best products and services on the market today share a few key ingredients of great customer experiences: They're accessible from anywhere at any time, give real-time feedback, and offer frictionless payment. Any entrepreneur who internalizes these lessons maximizes their company's chance for success in the long run.
1. You are always your first customer
"I mostly built stuff that I liked," Mark Zuckerberg told The Washington Post when he was asked how he developed Facebook.
It's a bare fact but, but some entrepreneurs get so involved in the closing deal that they develop what they like to sell and no what they like to purchase.
On the other side, not every product goes as desired by a customer, and here the market research comes in.

2. Bring customers on board, then retain them there
A startup needs to be the same lifelong as it was on the first day as it grows.
One company that epitomizes this is Surf Air. Its mission is to solve the traditional hassles of flying- delays, poor customer communication, inconvenient flight times- by offering unlimited private flights within California for a flat monthly fee. No lines or hidden fees, just a first-rate, super-convenient experience.
3. Keep it personal

"If you put the customer at the center of everything you do, you'll be better prepared to change and adapt."
For startups with limited resources, it is a difficult task to maintain that level of privacy required.
Every business has its own uniqueness and needs, but a satisfactory customer experience is necessary to be kept for all the startups.
This article is written by Naveen, presently working in LegalRaasta, an online portal for Company Registration, GST Return, FSSAI Registration and other legal services.
Recruitment is not a hard science, it can be done by any person having a little common sense, and successful recruitment is just about all the small and big interactions, well handled. In today's world, a number of professional third-party recruiters have a huge pool of contacts to find the best staff fit for their clients.
The major point of difficulty that arises is to find the right person available for the right job. Hiring the right person- always gives multiple returns.
How to start successful hires
Startup companies that want to build their business for long run should think of building their human resources around the people in their business.
"Discovering the right talent for startups using conventional job sites is not quite efficient, where resumes have to be manually filtered. A number of startups in this space are solving the problem of hiring by easing the discovery of right talent and reducing the applicants to shortlisted candidates ratio," says Shanti Mohan, the co-founder, and CEO of LetsVenture.

There are a lot of resources available for startups to hire in India are:
1. Angel list

2. Cutshort

3. Instahire

4. Link

Where to start successful hires
Hire leadership first
It is the most important question among the startup founders, who to recruit first, leadership or support staff. In most of the cases, leadership should come first. This will allow all the hired executives to further build up their teams according to their needs. Your startup can actually grow according to a well-known strategy called span of control(actually started as a military strategy)
Don't get distracted by the corporate experience
Most of the startups today want people with experience, yes it is good, but be clear with yourself that what type of experience do you want. You might be wanting to hire someone who is comfortable in large, where you will desire to reach one day.
Benjamin Yoskovitz recommends recruiting of leaders with startups or with small experience who are ready to try something new and challenging, instead of for looking at entrepreneurial DNA.
Hire people smarter than you
Steve Jobs said,"it doesn't make sense to hire smart people and tell them what to do; we hire smart people so they can tell us what to do. This can be frightening for startup founders. How can you maintain control of a car if you don't know whats going on under the hood?
The answer lies in your startup's core values. If you recruit leaders who fulfill your core values, then you can surely trust that their brilliance will work in your favor.
Don't be cheap when recruiting
Clayton Christopher is a well-known Austin, entrepreneur who founded both Sweet Leaf Tea and Deep Eddy Vodka. He is very often with his startup experiences and often recounts how he learned to invest in talent from the start.
"One of the things I wanted to do from day one at Deep Eddy was to create a world-class team," he told in a magazine.
The hiring of a world-class team is very essential, though it results in higher startup costs, but than the payoffs can be effectively impressive. The problem is that good startup talent is hard to find these days. If you want to hire people with exceptional, you have to pay them what they worth of.

This article is written by Jatin Kapoor, presently working in LegalRaasta, an online portal for Company Registration, GST Return, FSSAI Registration and other legal services.
A startup is a new business venture emerged who seeks to enter the market, which is ready to compete with its competitors and survive using various business tactics to sell his commodity or service. Maybe it is easy to create your business venture in the market but more challenging to survive in the market. In order to survive in the competitive market, the company should research about its competitors like their market strategy, unique selling proposition, about their product etc. and should plan accordingly. We can talk about various startup companies who managed to survive and are now successful ventures who are now a private limited company like LegalRaasta, Uber etc.
After forming a private limited company, the main aim or goal for the company should be Growth. The main focus should be on growth and expansion of the company. The company will grow only if they are able to achieve their small targets set. Climbing stairs of struggle can only take you the final step i.e. The success.
In order to maintain a creative environment culture in the startup, one should take care of few things like-
1) Learning should be encouraged
The managers and the top level workers of the private limited company along with the employees should ensure that a learning environment is created rather than a burdened work environment. Managers should encourage their employees to learn new ways or strategies so that it helps the company to run smoothly and give better results and ultimately in the growth of the company.

2) Experimentation should be done
Sometimes working with the old techniques don't give expected results so new ways should be adopted or at least experimented so that there is a scope for improvement in the working and expansion of the company. Managers should encourage their employees to try new methods.

3) Innovative ideas should be discussed
There should always be a room for suggestions, new strategies, and other innovative ideas. Managers should give employees a chance to show their skills which can turn out to be good for the company. High-level managers should not close their ears when their employees give them suggestions, in fact, should be considered and work on it.
4) Proper Planning should be done
In
Private limited company
, proper plans are made about the ways and methods which has to be used, targets should be set, and objectives of the company are cleared. Managers should include their employees as well to take decision for choosing the alternatives to maintain a good environment and also to create a creative culture in the company.
5) Review all reflection
Managers should also include their employees while reviewing all the work done by the employees, this will not only create a creative culture environment but also will motivate the employees to work better next time.
It is very important to create a creative culture environment especially for the startups so that the new company works with full efficiency and hard work. It will help the company to rise with the performance over the years.