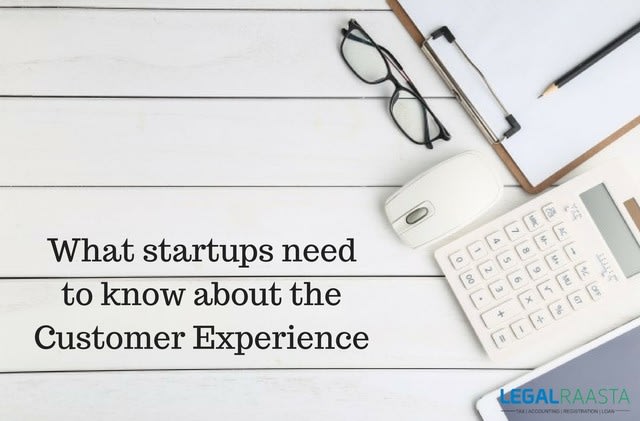 For any startup, it is very confusing that how to take stock of and complete the sales process according to the customer point of view.
There are many old ways of thinking which have either changed or vanished. A number of companies are changing their way of thinking about their customer or about traditional sales or marketing funerals.
It's much more difficult in this increasingly complex ecosystem, to define or control a single path for each of your customer.
Solvvy breaks down the customer experience into five specific components:
1. Perception

2. Interaction

3. Friction

4. Resolution

5. Communication
More importantly, it points out how critical it is for startups to understand and shape their customer experience as part of their overall business strategy. Entrepreneurs can establish a strong competitive advantage, even in crowded markets or with well-established incumbent brands, on the basis of a superior customer experience.
This is, of course, a huge opportunity.

According to the graphic, 89 percent of companies expect that the holistic customer experience will be the main basis of competition in the coming years.

But it's not just business leaders driving the focus on CX. Customers indicate that experience plays a huge role in their purchasing decisions, loyalty, and satisfaction.
In particular, it seems that consistency is a top priority for consumers.
In one study, 90 percent of consumers said they expect a consistent customer experience across every platform and device.
But it's not just a nice-to-have; customers are willing to speak with their dollars. Over half of all consumers say they're willing to pay more for a better experience.
As a startup grows, it needs to continue delivering the same level of personalized attention to customers as it did from day one.
The best products and services on the market today share a few key ingredients of great customer experiences: They're accessible from anywhere at any time, give real-time feedback, and offer frictionless payment. Any entrepreneur who internalizes these lessons maximizes their company's chance for success in the long run.
1. You are always your first customer
"I mostly built stuff that I liked," Mark Zuckerberg told The Washington Post when he was asked how he developed Facebook.
It's a bare fact but, but some entrepreneurs get so involved in the closing deal that they develop what they like to sell and no what they like to purchase.
On the other side, not every product goes as desired by a customer, and here the market research comes in.

2. Bring customers on board, then retain them there
A startup needs to be the same lifelong as it was on the first day as it grows.
One company that epitomizes this is Surf Air. Its mission is to solve the traditional hassles of flying- delays, poor customer communication, inconvenient flight times- by offering unlimited private flights within California for a flat monthly fee. No lines or hidden fees, just a first-rate, super-convenient experience.
3. Keep it personal

"If you put the customer at the center of everything you do, you'll be better prepared to change and adapt."
For startups with limited resources, it is a difficult task to maintain that level of privacy required.
Every business has its own uniqueness and needs, but a satisfactory customer experience is necessary to be kept for all the startups.
This article is written by Naveen, presently working in LegalRaasta, an online portal for Company Registration, GST Return, FSSAI Registration and other legal services.