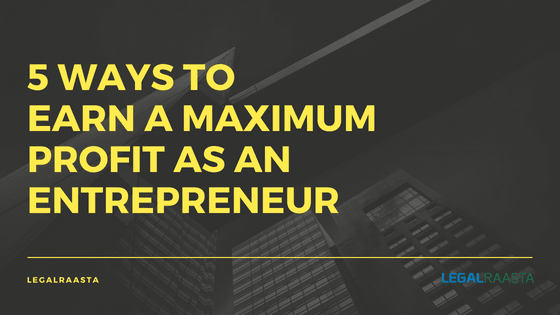 As a business owner, it is necessary to regularly and constantly find out profit-making opportunities from the business. Mostly all business have multiple ways of earning the business. A true entrepreneur is who has the ability to earn business from the business, i.e, how to make a profit using multiple ways form a single business.
Following are the 5 most possible way which will help you to maximize profit from your business.

1. Paid Advertisement
Paid advertisement is the most effective and important way of making a profit from the business. If you have a website with a huge visitor traffic, partnering with a similar company, maybe not from your competitor or rival, can be more advantageous.
For example- if you have owned a website specializing in men's accessories like watches, wallets, etc, you can earn more by having an advertisement on your website of men clothing.
Thomas Jefferson said, "the man who stops advertising to save money is likely the men who stop the clock to save the time."
If you are good at marketing online, you'll learn quickly that paying the customer is crucial to scaling your business online.
2. New additions
If you are a business owner that's succeeding in an endeavor but want to optimize your profit to a more greater extent, always try to add a new product line or a new service to create a completely new profit center. Take extra space storage.
For example- they are extending their product line by adding electric-vehicle power stations to their self-storage locations to create a more environmental friendly profit center.
Just be sure that the product is in-line with your existing product or service, market and advertise it well, and create a plan of action for implementation.
3. Referrals
Generating revenue from clients you already know you and trust your brand fully is much more cost-effective than spending money on getting new customers. If your clients impressed with the way you make the deal, they will think of making deal with you again and also give referral your way. Almost any business can implement a customer referral program by offering product and services to existing customers for referring new customers or clients.
4. Consulting fees
If you are an expert in any field, don't limit yourself in just practicing your expertise, instead become a mentor in that field who teaches others what to do and how to do, by providing webinars, seminars, lectures, etc. Getting yourself paid for seminars or lectures can become an excellent way to maximize your profits.
Search the market for what other specialists in the similar fields are charging to their customers and know what to charge.
Further, if you believe that you have more expertise then any other in your field, you have the option to charge more then others which the customers are ready to pay.
5. Arbitrage
Arbitrage is the hiring of some other person or a middleman to get your job done. Or say, you act as an agency and hire an agent for you.
You would generate as much money as you were to work alone, you can take more projects and hire freelancers to complete the project while you market.
This article is written by Naveen, presently working in LegalRaasta, an online portal for
Company Registration
, GST Return, FSSAI Registration and other legal services.