Hi everyone, how is your Friday going so far? I am excited, because Shohei Ohtani will be the starting pitcher in his next game with the Los Angeles Angels. The game will be Friday night in America, which will be Saturday morning here in Japan. Ohtani is one of the most amazing baseball players in the world! This season, he has already hit 17 home runs in MLB (major league baseball). The leader has just 18 home runs, so Ohtani might be the home run champion at the end of the year. But he is actually a great pitcher, too!! Earlier this year, he threw one pitch that was 101.1 miles per hour. That is faster than 162.7 kilometers per hour. In fact, that speed represents the fastest pitch ever thrown by a Japanese baseball player. Many batters have a very hard time when they try to hit against Ohtani. No one else can do what Shohei Ohtani can do. The only baseball player who was similar to him was Babe Ruth, because he also could hit a lot of home runs and be a good pitcher.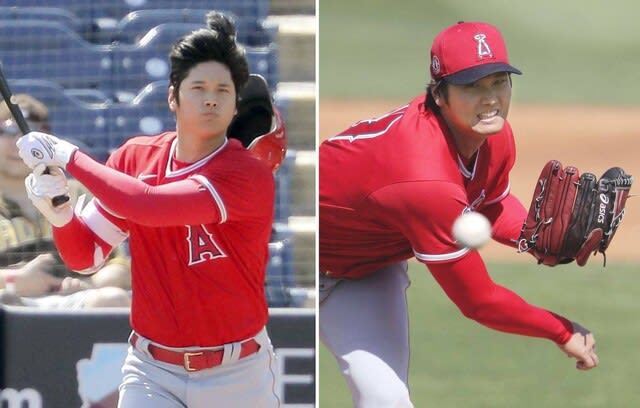 But one of the big differences between Ruth and Ohtani is that Ruth couldn't really do both of those things at the same time. Babe Ruth pitched early in his career before he was really famous as a home run hitter. After he joined the New York Yankees, he became a big star. He only pitched in a few games with the Yankees, though. On the other hand, Shohei Ohtani usually is the starting pitcher around once a week for his team. Also, Ruth was a little bit fat! He didn't run so fast compared to other players. But Ohtani already has 9 stolen bases this year (盗塁), which is the highest on his team! He can do everything well.
Did you know that Babe Ruth came to Miyagi Prefecture once? He visited Japan in 1934 and played some baseball games here. He hit his first home run in Japan when he was on a trip to Sendai! You can see a statue of him at Yagiyama Zoological Park (八木山動物公園). The statue is located at the place where he had his 1st home run here: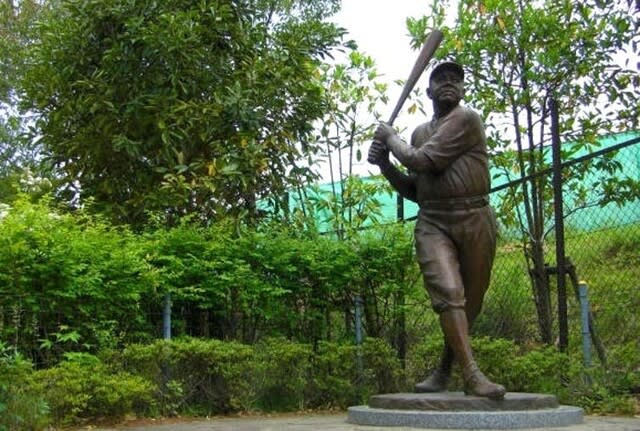 I love baseball, and I played it a little bit in my younger days. I really liked Hideki Matsui when he played for the New York Yankees (the same team as Babe Ruth!). His nickname then was "Godzilla" because he caused a lot of problems for other teams with his great hitting. Here is a gif of him hitting a walk-off home run (サヨナラホームラン):
When the Yankees won a championship in 2009, Matsui was the "World Series MVP". I was also a big fan of Hideo Nomo, a Japanese pitcher who played in MLB and was quite successful. People said that his pitching style was like a tornado because he twisted his body a lot before he threw the ball. But my favorite baseball player has also been Ichiro Suzuki, of course. He's probably the most famous and popular Japanese player in MLB history. He retired a few years ago. For most of his career in America, he was a member of the Seattle Mariners. One time I drove there to watch him play. Seattle is pretty close to Vancouver, a Canadian city where I used to live. The day I watched Ichiro, he had a great game. He had 3 hits, scored 4 runs, and had 2 stolen bases. He also made a couple of nice defensive plays in right field. He'll always be my Japanese baseball hero!!!!
Do you watch baseball sometimes? Please tell me about YOUR favorite player!!!
- Peter