3つの彼岸についての考察
1つは幼少期にいだいた超対称的な彼岸
のイメージであろうか。ニューロマンサーや
タクラマカンからディストピアの要素を
除いたサイバネティックなユートピアとよぶべきような
いずれにしてこれらは現実的なことにかかわっていた。
2つは最初のものに幻滅したあとに再帰的に現れる。
弁証的で目的や理想を追求し信念を貫いていれば
彼岸にたどりつけるだろうといった類のものである。
我々の場合は大学受験の合格の体験がこれにあたるだろう。
これをなしとげたあかつきには象徴性もともなって
彼岸にたどりつけたという-ところがどうだろう。
其の後の数年を振り返ってみよ。彼岸にいるはずの
我々にあまりに瑣末な事が煩悩させはしないだろうか?
我々はここにまた幻滅したのである。
そして3つだが、これは現在我々が最も興味深く
考察していきたいと思っている類の、そうキャピタルストック
に関わる彼岸への漸近である。これは現実的なことにかかわ
るのではなく実際現実となれば最初2つとは違い我々は
幻滅しないのではないかしら?彼岸への到達ではなく
漸近という形での私利私欲でする。我々は功利的でも
なければ社会主義者でもなく、またインフラの発展
は賛同するがインフラの発展への貢献をしようとは
まっぴら思っていない。その辺を大分つっこまれてきた。
邪悪なファシストが欲する完璧な身体への違うベクトルから
のこれまた邪悪なアプローチであることにはとにかく
間違いはないんだ。其の前に死んだらもともこもないぜ!
今Zicの samizdart litelatole聞いてるけどダウナー系
のヘロインがほしいね。(ジョークです本気にしない)
usyukuro
usyukuro関連の動画になります。
A little bit more about the new 7digital...ovdk
What's changed and what's still to come?
We launched our faster, new-look download store at the end of January. Since then, we've been hard at work improving the website in line with your comments. Thanks to your feedback, we know that clear product pricing, enhanced editorial features and genre pages are important to you. We've already begun adding prices and every day you'll find new features appearing in the top menu of the website. Next up? Genre pages!
Please keep sending us your comments; they're what's helping to shape the site. To be kept up to date on our progress you should subscribe to our newsletter and follow us on Twitter.
Can I download music on the new 7digital?
Yes, you can. The new 7digital is a fully-functional download store with over 19 million tracks available. Get started by signing into your account or sign up here if you are new to 7digital.
I'm an existing 7digital customer: do I need to create a new account in order to shop in your new store?
No, you don't. Simply sign in to 7digital using your existing details.
How do I access music I purchased on the old 7digital website?
You'll find all the music you've ever purchased from 7digital in your Locker, and you can now stream your purchases via the 7digital Player.
Where is my Locker?
Your Locker is now called "Your Music" and – just as on the old 7digital – can be found in the top right menu of the site.
I'm new to 7digital: how do I get started?
If you're new to 7digital, you should create an account.
I've found a bug: how can I help?
Your feedback is essential in helping us improve our service so, if you come across anything that doesn't look quite right, please let us know. To get in touch, simply fill out the form in our new store, accessible via the blue tab marked "Feedback" or visit our customer feedback site.
Where can I find out more about 7digital?
You can find out more about our products and services here.

OVDK & Bunk Data new stuff 2011
ea020 - OVDK & Bunk Data - Cybernetic Recursion
Cybernetic Recursion is the study of the feedback loop - an infinitely repeating process - be it mathematical, social, linguistic, or metaphysical. Through examination of the feedback loop and it's recursive content (specific function values) a state of flow can be achieved opening new windows of consciousnesses to higher planes of thought.
Download Full Album: ea020 - OVDK & Bunk Data - Cybernetic Recursion (76.1 MB) Download Songs:
Track 01 - Flamme des geist (14.2 MB) Track 02 - Distress Foreshadow (9.5 MB) Track 03 - Fragmented by Fog (24.1 MB) Track 04 - North among the ruins (15.2 MB) Track 05 - Vanitycal Aftermath (7.7 MB) Track 06 - Night in Neptunium (8.2 MB)
Endless Ascent was created in early fall 2008 by Minnesota recording artist Nathan Larson (Bunk Data, Samsa). Nathan was one of the co-founders of the Green House Music label that released a wide variety of atmospheric and ambient music by artists such as Vir Unis, Steve Roach, and Alio Die. After GHM closed it's doors, Nathan created the Dark Winter label in 2002 to continue releasing music with a focus on dark ambient music. Endless Ascent was created to fullfill the desire to release other projects with a lighter feel and return to some of the roots of GHM.
............................................................................
Ryuta.k new bio BIOGRAPHY::tokyo-chiba based experimental musician ryuta.k(aka RYU, ovdk) releases mostly freeform ambient and experimental muziq  since 97 with powerbookG4 ,max/msp,jackson guitar,joemeek,etc. Also he has learning post modern Structuralism or Philosophy or modern art (art&Technology),modernscience such as deleuz ,lacan, dechamp,prigozine. In his boyhood,he listened only rock. but Gradually he has interested in Various music like jazz,folk,worldmusic,digitaldomain,noise,wired avant or things . He calls The genre of fishy music he made Post sampling kinetic nonhierarchical nonlinear nonequilibrium forth world muziq ! Or, it might not be considered musical. DISCOGRAPHY; ep1/ep2 (1998, Player server net) Player server CompilationCD(2001,Player server ) Tribute to Gregory Bateson (2005,MIMI records) The depressd (2006,Dark winter records) le sambolic (2005,doppelganger-records) zousyoku(2006,MIMI records) Andansite(2006,doppelganger-records) These are not muziq(2007 Ghosts lacan marxists(2007,doppelganger-records)            castration(2007,Dark winter records) schizopoiesis(2007,doppelganger-records) kyzyl to samarkand(2008 /sara ayers) Discourse of the Other(2010 /oVdk & Bunk Data) Cybernetic Recursion(2011/OVDK & Bunk Data ) ::::::::::Facebook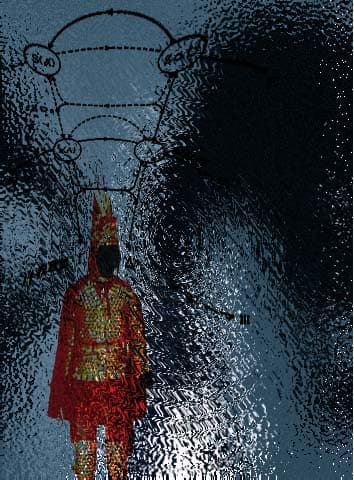 馬頭琴
その音色の荘厳さ。
資本ミュージックと違う。なぜか?
ネーションとナショナリズムの
イデオロギーを超克するような
汎大陸的な音色だからでしょう。
またこれは対称回復に関してモーダル-
主音のヒエラルキーからの解放-
であることと相即している。
そんなイメージをもった
Kyzyl To Samarkand
wiki
amazon
kyzyl to samarkand
Ryuta.k+sara ayers | 形式: MP3 ダウンロード
この商品の最初のレビューを書き込んでください。 Like 1309114451 false -1 0 0 0 (0)
価格: ¥ 450
o o o o o o o o o o o o o o o o o o o o o o o o o o o o o o o o o o o o o o o o o o o o o o o o o o o o o o o o o o o o o o o o
* オリジナル盤発売日: 2008/9/25
* フォーマット- ミュージック: MP3
* 各種プレーヤーに対応:MP3プレーヤー(iPod®を含む)、iTunes、Windows Media Player
スプレマティズムをおもいだしてみようじゃないか。
あれは対称性を回復していないだろうか?
都市のモダニズム的なのっぺりとした建築物のスペクタクル、
発展の極への漸近は不確定性原理をともなった発散であり、
コールソンゾルガンへと至る。だがその対称性の回復は
生物が彼岸へ渡る事に相当しているため"死"と同義だ。
大義を失った私の個人主義者は虚無を手にする。
いつまでもフラットな環境から逃避することはできない。
01 Golden Warrior Prince of Saka--Sara Ayers and Ryuta.K
Into the millennium ,with newage-tic thinking,
we had demand reah the whole body as into digital domain.
such Fantasm as pagan wiccan glitch music seems vast ,magnificent,
sublime,serenitc,but subtle like covering all silkroad district.
But real me is small and raped by various demotinal ideology.
Tag ;Artsitname;Sara Ayers and Ryuta.K Albumtitle;kyzyl to samarkand
year2008,label;darkwood,Nsk,Nyk,usyukuro ,max/msp,dark ambient
01 Golden Warrior Prince of Saka ( buy)
02 Invisible Cities
03 Shirley Collins
04 This Is What I Wanted
05 Kyzyl To Samarkand

Real me is separated fish by various hardship.
Kyzyl To Samarkand
is the Matrix
which includes my desire(kyouraku) as for
pan-tonal,pan-silkroad ,trans-modernizm
trans-nationalizm, trans-ideology,etc.
Some say it just new age. thought ?
I think it should generate 差異共振
through Neo-cagean onkyo thoughts .
New our pre-release

dw066 - oVdk & Bunk Data - Discourse of the Other
Expanding on their collaborative efforts demonstrated on the Atmoworks label, Japanese sound artist Ovdk (ryuta.k) and Bunk Data (Nathan Larson) return with a release focused on a term about unspecified voices and alienated conversations, beyond one's conscious control. These soundscapes always include the theme, 'Discourse of the Other' as defined by Lacanian psychoanalysis.
...we cannot always have our own awareness about self-Discourse...
Download Songs:
Track 01 - Distant Refraction (32.4 MB)
Track 02 - Feel thier Präcoxgefuhl (8.36 MB)
Track 03 - Syntactic Incoherence (Butsumetsu) (17.5 MB)
Track 04 - Why Not Sneeze Kangrinboqe? (13.9 MB)
Track 05 - Flight of the Yameil Jyuravli (17.1 MB)
Track 06 - Viscous Self Found in a Vacant Space (13.8 MB)
Track 07 - Un stazion Centaur (On the Night of the Kentauru Fesitval) (12.3 MB)

What's your drug of choice?
Our drug of choice name is "poverty".
Ovdk got Speedball between Autism and schizo.
このブログは5年目に突入!(最近ほぼ書いていない)
反想郷 -V.A.
With a very obscure and interesting Japanese compilation in tribute for the great philosopher Michel Foucault, Doppelganger Records raise an important question in the field of discussion around what a tribute album really is. A tribute album to a certain band will most likely have cover versions of the certain band. A tribute to books, movies, historical events, these are all possible with "loading" the music with a musical or conceptual element or characteristics of the subject in question. But when the object is an idea, or a set of ideas, how do you make a musical tribute to it?
The seven contributing artists for this compilation are described inside the insert sleeve. Each artist described in means to distinguish her or him from the other, with past and present projects mentioned, like a tiny CV. This, in the way of Foucault, is the secret. While he is the subject of the album, while this is dedicated to him, every compilation album is actually made in order to expose artists and give them stage, whatever the subject may be.
With this in mind, "Un Nuit Dysopia" is a very strange and fascinating album. Makryham begins with a very minimal track. As peculiar wooden whistles fly by a gentle bed of small acoustic sounds. Very meditative beginning to this album. Bunk Data is far more haunting and claustrophobic, forcing the listener to deal with the sound of numerous conversations at once. At times it sounds just like an underground train station, but there are moments where you can almost be sure this is just inside your head.
Kol Sonzlgn bring it back to minimal again, this time with sporadic, yet very sensible guitar strumming. This deep, spacey musical passage is also touched with the a blues like aura and is one of the best tracks on this album. It develops really nicely and become more engulfing and dominant as minutes pass.
Sara Ayers follows with a sublime track of heavenly sounds, covering with their warmth an incomprehensible voice. Her dreamy track is also very powerful and interesting to listen to after the previous one. "Mystery of Hadness" by Ergo Phizmiz is a freak out circus extravaganza, monstrously combining The Residents, The Tiger lilies and a Balkan folk traditional band, all playing different things at the same time. Monstrous and beautiful.
Henry Gwiazda, in a way, continues this way. "TheOtherWilderness" sounds like several improvisation attempts, done at once, in the first few minutes, and this yields some interesting results. It then changes to a vocal mayhem and Gwiazda then manage between the musical elements that were introduces in this track, resulting in an odd musical exhibition. Closing the album is Ryuta.K, with a track that reminds me of the album's opening. The twisting, squeaking whistles are back in a more intense track, growing even more claustrophobic than before. The voices almost bid us farewell before they are swallowed inside the whistles. This night, seven tracks long night, was very demanding and intense. And these seven dystopian stars shining through it have made it all the more interesting and enjoyable.
Radio stationからの曲
1.2008/05/6th
this week playlist
song title;
PotalaSymapatyForAutizm
Artist;ryuta.k
Get this widget | Track details | eSnips Social DNA
*
Artist: Ryu
* Genre: Electronic
* Styles: IDM
* Label: Doppleganger / INgrooves/usyukuro
Ryuta.k Truth got broken since May 68
[Original] Doppelganger 29.11.08
BuyBuyBuyBuy
AU2.23
Ryuta.k Truth got broken since May 68
[Original] Doppelganger 29.11.08 Buy AU2.23
Ryuta.k (Ryu) Jungulini
[Original] Doppleganger 14.08.07 Buy AU2.23
Ryuta.k (Ryu) Ceremonie Du Naven
[Original] Doppleganger 14.08.07 Buy AU2.23
Ryuta.k (Ryu) Neuromancer
[Original] Doppleganger 14.08.07 Buy AU2.23
Ryuta.k (Ryu) Bermuda Triangler Weakling Song
[Original] Doppleganger 14.08.07 Buy AU2.23
Ryuta.k (Ryu) (wana) Sleep In Your Womb
[Original] Doppleganger 14.08.07 Buy AU2.23
Ryuta.k (Ryu) You Could Not Dam That
[Original] Doppleganger 14.08.0
Catalog#: dwr-01
Format: CD, Album
Country: US
Released: 01 Jul 2008
Genre: Classical, Folk, World, & Country
Style: Dark Ambient, Glitch, Post-Modern, Experimental
+++++++++++++++REVIEW++++++++++++++++++
This is pagan&wiccan music such like Loreena McKennit ,
rasa,ekova,basque,steve roach,libana,waterboys.
But it has also electronic ,glitch,leftfield atmosphere.
kyzyl is tuva city,and Samarkand is uzbeks city.
you can also see We7,itues,emusic,amie
StillStream Featured Releases
Kyzyl to Samarkand
by Sara Ayers and Ryuta.K
(April 30, 2009 ) - One of the most profound and hardest-hitting
ambient releases of 2008 was this dark and ethereal collaboration
by two of the genre's greatest voices, vocal ambient artist Sara Ayers
and dark ambient artist Ryuta.K. And what a stunning release it is.
It just doesn't get any better than this, and we are proud to feature
an album with such a distinctive artistic vision. Simply some of the most beautiful,
foreboding ambient music we have ever heard.