Journey to Spain (18/March - 17/April /2017)
         * * *   Spain part 2  * * *     
  San Sebastian
    I slept on the bench in front of this Catdral for 2 nights             Santa Maria eliza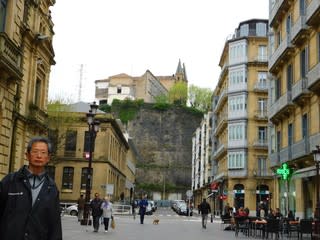 Maria Cristina Zubia bridge              The street to Santa Maria eliza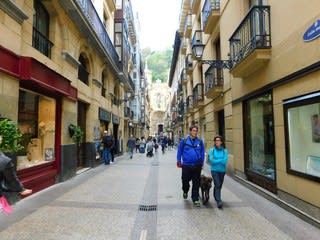 Concha beach                   Ayuntamiento de San Sebastián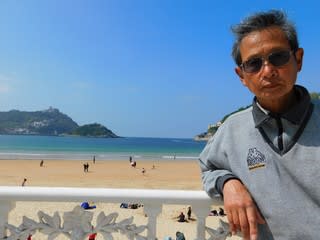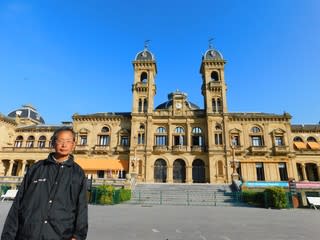 10, April  As I half anticipated that the cheapest hostel Down town river hostel was full.
I asked if it was ful next day as well. "it's full tomorow as well. It's Easter holidays. It's like Christmas holidays. There are many people comimg." I walked the street to find hostels or pensions. There were several hostels and pensons on the way, but they all looked too gorgeous for backpackers, perhaps more than 50euro. There was a grandious catedral around which there were squares with benches and toilet. Perfect place to take a sleep.
As the time aproached to midnight, there were few people stayed on. Good night. But the trafic of the street facing the catedral did not lessen, there came hot rodders with exploding sound, "Brrrrrrrr".
When I finally had a peaceful sleep, it was near morning. The problem with sleeping outside is that I had to carry my luggage with me all the time while sightseeing. That's what I did for whole two days. I serched out cheap hostels by the Internet by my cellphones. It must be near Santa Maria eliza. I found the street of the adress. It was a dirty backalley. The buildings were delapidating. I thoght that this place was the last place that tourists want to stay. My hope rised up. I went back and forth the street, I finally found the hostel.
There was small sign "hostel" on the non shiney door. The ownner of the hostel was obviously not eager to do business. I had to exert some courrage to press the buzzer. A woman spoke in Spanish which I did not understand one bit. I anyway asked, "Do you have room?" There came emotionless word, "Completo(full)", and she hang up.
So, It was desided that I had to sleep on the bench in the catedral park one more night.
I settled on a bench far from the street in order to avoid the traffic noise.
I slept well this time. Two police men came to wake me up at 7:20am. We exchanged amicable, "Good morning."
They perhaps thought that a homeless sleeping on the bench did not make a nice sceen to tourists.
 Set aside the accomodation issue, San Sebastian was amazing place. There are beautiful beach, grandios catedral, historical monuments, comfortable plaza, cheerful night sceen and romantic avenues paved with stone-blocks. There's no short of entartaining tourists.
  Pamplona
    Citadel(catle)                         Fort of St Bartholomew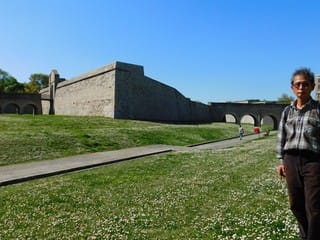 12,April
  It took one hour with 7.95euro by bus from San Sebastian to Pamplona.
As you may easyly guess. The first thing thing I wanted to do was to settle in a hostel since I had slept on the benches for two nights in San Sebastian. I yarned nothing more than a hot shower and a nice toilet to sit down.
It was about 25 minutes walking from the bus terminal. It was not hard to find the hostel Hemingway.
The information girl at the bus terminal knew Hostel Hemingway. She gave me the city map, and marked the H.
As I was afraid, it was full, but the receptionist kindly called another hostel nearby,
"They have available beds tonight." Thank God!
It looked just ordinal house, having at-home air with the garden and the spacious dining room with kitchen.
The staffs spoke fluent English, very friendly and helpful.
After I put down my luggage in the dorm and took refreshing shower and short nap.
I asked a young staff, "Where the must see places in Pamplona?" He opened the map and very elaborately precisely
explained and lined the route I should walk. "And you proceed into the park where there are animals..."
I tuned in,"There is... a house in new orlins...".
He was for one second perplexed then in serious face said, "Not singer, real animals, dears, pecocks, and so forth." My humour didn't work in Spain. Desponded.
  At near Plaza Catillo, young and old were enjoying drinks and chat into the middle of night.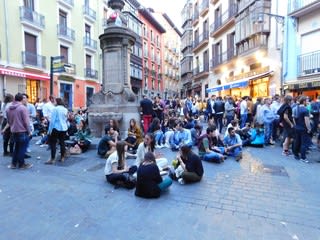 13,April On my way back from the selftour, I dropped in a supermarket and bought spagetty and tomato sauce for the 2 dinners to cook in the hostel kitchen. I felt fine on the fact that I had home to come back.
The bed above mine had been empty in the night so that I said nonchrantly in the next morning, "I want to stay tonight." There came unexpecter reply, "It's full tonight." I searched available hostel in Pamplona through the internet at the house PC. There were none.
I said the staff, "I have no place to go tonight, Could I leave my luggage here and come back 5 or 6pm tonight. Is it OK to cook then, because I bought foods to cook for the dinner already?"
While I was cooking and having chats with brasilian lady in the kitchen. The staff who had suggested me where to visit in the morning said, "While I know that you have no place to go, I can't let you go." I replied, "Oh no. It's no problem for me. I can sleep at anywhere in the world, don't worry." "It's cold in the night." "I know that." He gave me the finnal, "I will ring pensions anyway, wait." As a matter of fact that the situation didn't impose any issue at all since I had a good sleep and refreshing shower on previous night and I had checked out a good place to sleep near the hostel in residential area. After a while, he told me that there was a pension waiting for me near Plaza Castilo, a small pension next to a big hotel. "how much." "20euro".
That was a little high for backpackers. You see, I couldn't possibly say no after what he had elaboratory done for me. After I finished the spagetty dinneer. I thanked him profusedly and shaked hands firmly and left.
You could say that he simply did his job. But we knew that we liked each other like old friends.
The pension was the amidst of vivid night life. people were enjoying drinks.
The bars couln't contain customers inside, they simply over flowed out the streets, some standing some sitting with their glasses in hands. The pension was an old mansion transformed to pention. My room was a spacious double bed room. The shower and toilets were comunal. I had a privacy in the room which I don't appreciate much, because shareroom is often much fun to mix with other travelers. I ventured out to the cheerful night life.
You see I am not drinker, so just to see them.
 Magdalena bridge orinally built in 12th century   Panderia(pastry) cafe outside of tourist area   
 14, April I picked up my luggage and left the room at 10:30am for checkout. Then the ownner appeared and extended his hand to me for shakehand. We had been unable to comunicate at all. He perhaps wanted to show that he welcomed me. I left the hill and walked down to see the real life of people. The good things that seeing outside of touristic place is that you could know the real local price.
You would say that you know the price. No! All you know is tourist price. The prices of restaurants are very deferent. You could eat meal full to your stomack with soft drinks in 5euro while you have to pay at least 10euro in touristic places, plus some tips.
The restaurants I entered was run by a guy with thick mostache looked like from the middle east.
Later I found he was from Pakistan. There was a big map of Pakistan hung on the wall.
He would recall his home land now and then with mixed feeling, perhaps.
I once talked with the former boat people in Australia. Thier deam was to get decent jods and save up money
in order to invite their family and the relatives to live together like good old days.
I had to sleep at outside in Pamplona on that night because it was friday that meant there would be no hostels available either in Pamplona or Barcelona.
There were many spacious parks there. That part of the city looked where the middle class local people lived, it must be almost crime free, perhaps. I chose the one along side of the river. The place was quiet nice but it was getting chilly. I covered whole my body by the sleeping bag to avoid the chilly wind blew in.
 15, April  I got up with the sunrise. I washed my teeth and face with the free tap water in the park.
I headed to an elegant panderia cafe which I had found previous day. I had a delicious coffee and sandwitch while watchig the local sceen. I always love to see a local ordinal life rather than sightsee famous places.
I do not care much about this or that certified world heritage stuffs.
I got on the bus at 13:45 to Barcelona via Zaragoza. It was already dark when the bus arrived at the bus terminal of Barcelona. Of course, there should be no hostels available for me on Saturday. I had planned to go to the airport and spend the time untill next morning for boading the Airplane scheduled 11:25am to fly back to Japan via venna and Beijing. I inserted 20euro bank not to the auto ticket machine. it refused to take it. I changed the
machine. it refused my 20euro bank note. I didn't any other cash. a lady europian traveler came to help me. she streched the bank note or curved it. it didn't work. The human ticket windows had been closed already.
I asked her if she could change the 20euro to smaller ones. She checked her purse. No she could not change it.
Then She inserted her 4.5euro to the auto ticket machine, "I'll give it to you."  
The end. Thank you for taking look at this blog.
トラックバック
30日以上前の記事に対するトラックバックは受け取らないよう設定されております。
送信元の記事内容が半角英数のみのトラックバックは受け取らないよう設定されております。
このブログへのリンクがない記事からのトラックバックは受け取らないよう設定されております。
※ブログ管理者のみ、編集画面で設定の変更が可能です。