1.Visiting temporary housing sites with members of C.R.A.S.H. Japan
Today we were blessed to have missionary Andy and 8 others people come from the C.R.A.S.H. Japan base in Hitachi. They helped us go and minister emotional relief to people in the temporary housing sites.
We set up a tent in the parking lot of the "Takaku #1 Temporary Housing Site" and provided drinks and snacks to anyone who wanted them.
I listened to one gentleman share about how he was able to save himself from the tsunami but watched his wife be swept away and drowned before his very eyes. I also heard from someone else who was battered by the tsunami, breaking 3 ribs and a leg but was eventually saved. We listened to many people share their various stories.
We were amazed by the numerous tales of those who had been to the edge of life and death but returned to tell the tale. We realized that even among the residents of the same housing site there is a difference between those who had evacuated from the tsunami and those who had evacuated from the nuclear disaster.
2.Playing "Strike Out" with the children
Since there are many children there we brought a cotton candy machine to make cotton candy, but unfortunately there was no power source. We attempted to use our car battery but it was not quite enough power so we had to pass on the cotton candy this time. Instead we lined the kids up and they had a great time playing "Strike Out"
★Problems with the temporary housing units
Since there is little space between the ground and the floor of the housing unit there seems to be a lot of moisture and humidity coming up from the ground. Many have said that their futon bedding is always damp and even if you use a room de-humidifier it quickly fills up with water.
Many are saying that they could really use de-humidifiers for every room in their house. Also, with the recent scorchingly hot days the prefabricated housing tends to heat up very quickly and many have said that they would like to have air conditioners for each room.
However, when the people move out of the temporary houses they will be returned to Fukushima prefecture. This means that they are not allowed to punch holes in the wall and so therefore they cannot add more air conditioning units.
Also, there are numerous complaints of defects in the residences such as roof leaks and damaged window sashes.
That is all. Thank you for all of your prayers today.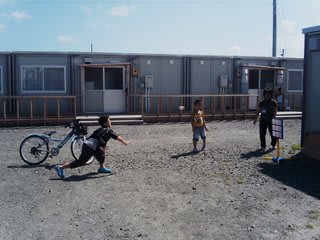 ジャンル:
Trackback (0)
|


mixiチェック
Tweet