Praise the Lord!
I am so thankful to the Lord's leading and blessing as well as for everyone's prayers and loving encouragement which has helped us to make it this far with our relief and rebuilding work in the Akai neighborhood of Higashi Matsushima city.
Listening to the suggestion of the locals in Akai, we marked the 5 month remembrance of the disaster by having a "Super Rebuilding Festival" on Saturday the 13th. It was organized by the Akai municipal office in cooperation with our JAG relief team and Teen Challenge.
This time we had numerous JAG churches (7 total: Hachioji, Fujizawa, Shinohara, Niigata, Soka, Yokota and Izumi) as well as Teen Challenge come and minister.
The JAG provided t-shirts with a cross printed on them and we wore these as we worked alongside the local municipal organization members; united together with the common purpose of celebrating the rebuilding process. Seeing everyone working together was such a declaration of the glory of God!  
At the start of the festival, everyone in attendance joined together to thank the Living God for His guidance thus far in the rebuilding process as well as ask for His continued blessing over the remaining work.
In the "Rocket Ship Park", which was used as the festival grounds, the Arakawa Municipality and the JAG setup various refreshment tents as well as a special stage which held performances of karaoke, worship, traditional Japanese dancing, poetry recitations, and a human video from the Hachioji Challenge Missions Kid's ministry. Everyone had a great time celebrating the rebuilding of the neighborhood.
I am certain that we are seeing the beginning of God's revival on this earth thanks to everyone's tears, prayers and sacrificial love. Starting in September we are hoping that the relief center will be able to organize a similar festival like meal distribution once every month. Please pray for the opening of our new relief center.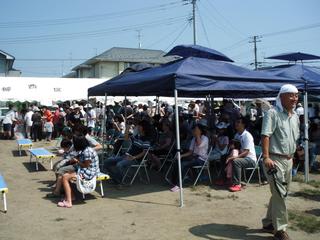 ジャンル:
Trackback (0)
|


mixiチェック
Tweet