On 22nd December 2010, we held technical conference in Nagano. The conference was open to public and many of our company supporters from various fields gathered to learn the updates on our research and development or the accomplishment.
For this year's presentation, collaboration research with academic institutions have been added for the purpose of widely discussing about possibilities and future courses with as many people as possible.
The conference started with President Kasuga's speech. 9 people from 'Development and Engineering Department' delivered presentation in front of a hundred attendees.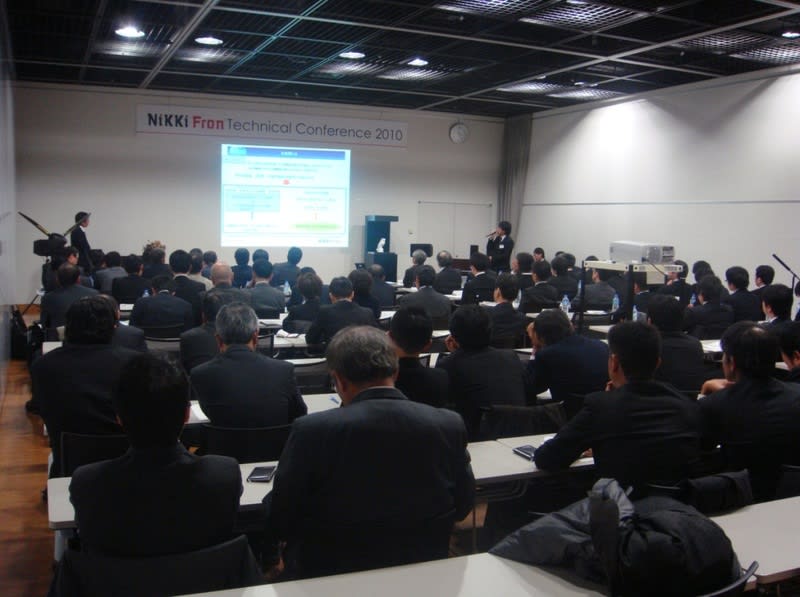 About 100 people attended the conference
We've received comment on each presentation from Mr. Shimada from AIST (National Institute of Advanced Industrial Science and Technology). 3 people were honored as best researcher and presenters chosen by 9 people within and outside company.
President Kasuga shaking hands with one of the recipients
The conference was marked as an opportunity for researchers from both local and Tokyo academic institutions gathered to interact with each other to share their latest studies besides offering researchers to present their yearly study.
We're determinded to make the best out of comments or ideas received to further pursue the position as 'the advanced R&D material manufacturer' each day.
【Presentation from 'Development and Engineering Dept.'】
ⅰ News and progress as whole dept.
―Applying self-retained technology to new field―
ⅱ Making of owl sculpture for previous fair
ⅲ Developing friction material for hybrid car
ⅳ Improved manufacture system for oil brake insulating material
ⅴ Development of butterfly valve for Company O.
―Latest research and development―
ⅵ Photocatalyst using PTFE compound material
ⅶ Development of recycling technology for FTFE curving waste
ⅷ Humanoid robot using material developed by Nikki Fron
On 2nd December 2010, we've opened subsidiary company of Nikki Fron Group, NIKKI FRON (THAILAND) CO., LTD. in Amata Nakorn Industrial Estate, Chonburi, Thailand. The industrial estate is located 60km southeast of Bangkok and it's one of the most well-known estates within the country.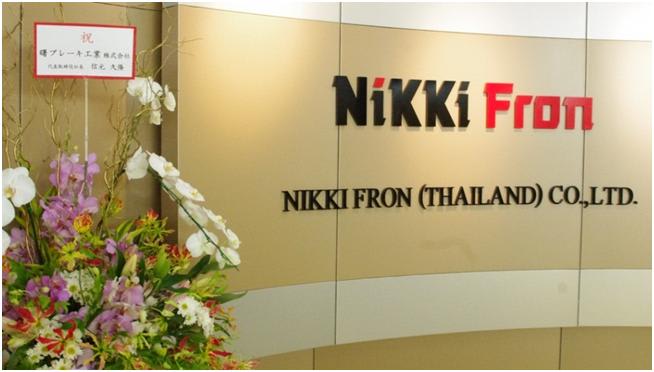 NIKKI FRON (THAILAND) CO., LTD. entrance
We're manufacturing clutch facing in Thailand plant and will gradually transfer the whole production from Nagano, Japan. Its production in Nagano will lessen in order to better gaining and strengthen R&D function for products including CFRP.
Traditional Thai opening ceremony
The opening ceremony started at 9 o'clock with 9 monks' attendance. The number 9 is said to bring good lucks in Thailand.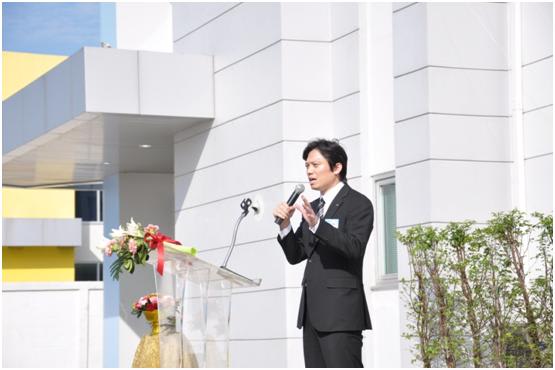 President Kasuga giving speech during ceremony
President Kasuga thanked the attendees for gathering for the special day and spoke of renewed determination.
Since about 90 percent of our production is consumed overseas, president Kasuga explained that owning a plant abroad and being closer to customers will enable us to understand market needs better. He vowed strong enthusiasm for coming years while we've only just began and stood at starting line.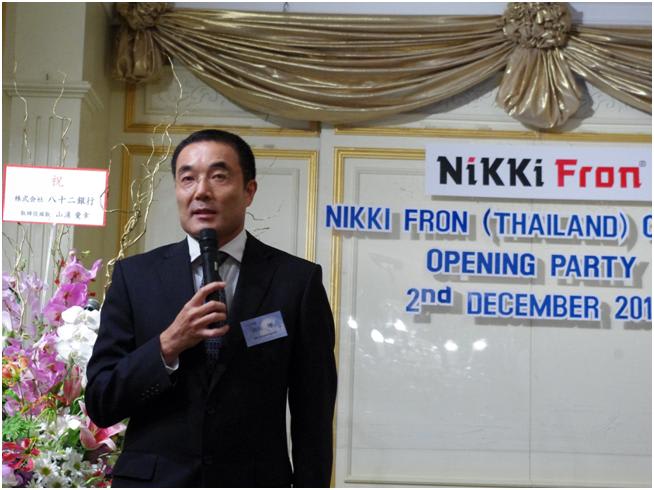 Minister Okada giving speech at opening party
Opening party was help the same night. We've received warming congratulate speech from Minister Okada, Embassy of Japan.
We, Nikki Fron, will further expand overseas production and we deeply thank you all for understanding and generously assisting on the way.
((What is clutch facing?))
Brake friction material and disc pads mainly used for manual automobiles nowadays.