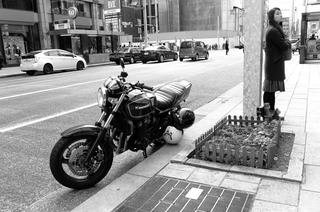 The Days I Spent With Leica ~ "Bigtwin Bike" ※The photo is not the one.

I like a motorcycle (bike). I don't have likes and dislikes about a type of a bike. Any bikes look fascinating with or without high performance for me. Further, I don't mind riding it even in the scorching summer or in the freezing winter. If you ask me, however, to choose the best in the types and the seasons, I choose a bigtwin bike and autumn.

As you may have an especial song which encourages you in facing a hardship or makes you shed tears for unforgettable love, you may also have a special novel which affected you deciding something special. I came across such a novel in my younger days. The story has no violence and sex. The only memories of adolescences are described simply in a sentimental way; in the late October, a young man is going uphill on a gentle mountain road, riding Kawasaki W3. It is the bike of a bigtwin (vertical twin) engine of 650cc. It is the first time for him to visit his hometown in four years after the high school graduation. He is going to visit his ex-high school teacher before joining the high school reunion. His house is a small, but swell French restaurant. It has been run by his wife. He and his close friends used to hang out there after the class in high school days. The friends are also supposed to gather there today. In the deepening autumn, the exhaust sound of the vertical twin engine echoes in the mountains. The stage sets well. Then, flashbacks of young days start...

This novel imprinted my way of enjoying a bike, a solo tour, and also my favorite season, autumn, into my subconscious.

When I was young, however, I didn't ride a big twin bike. I used to go for a ride with my friends here and there, everywhere in Japan, though, I rode multi cylinders engine bike. Because, we liked to make a mock race on a mountain road, and needed the fast bike so as not to be fall behind the group.
Time passed, however, I became a seasoned rider as I knew it before. I am not as interested in a group tour and the mock race as I used to be. I don't have to hurry in the travel, and also in life anymore.
So, I want to ride a bigtwin bike. It can be best company for traveling alone because of its fascinating exhaust notes and comfortable vibration. It is difficult to explain them in sentences, however, I think you can understand them if you have heard the V twin engine sound of Harley Davidson on the street. The sounds of a vertical twin and a V twin engine resemble, which sound strongly and heavily like beating a big drum.
I like the both bigtwin engines. The former, however, sounds a bit lightly and gently. A bike of a vertical twin engine may be more suitable for the trip in Japan. You can enjoy the exhaust note and also comfortable vibration as long as you can. The sound will lure you to go furtherer.

Now, I grow up, marry and have the little twins. I rarely have the opportunity to go out alone for my leisure activity, to say nothing of going for a ride even in the consecutive holidays. The certification of motorcycle safety inspection of my motorcycle, YAMAHA SRX 600, a single cylinder engine, already passed its expiration date many years ago, and that motorcycle has remained dormant in my garage since then. Nevertheless, when another autumn comes, I always remember the days when I rode a bike. Because, it is near the end of the year. Everyone becomes sentimental. So do I. The sky seems to be higher than summer, and the air is crisp. When you ride a bike and go on the road with dancing withered leaves in the wind, you must feel as if you became a part of the wind. If you experience this situation even only once, you must understand what I mean. It is the moments of euphoria that only a rider can feel. The autumn is the best season for riding a bike.

There is nothing more fascinating than riding a bigtwin bike in autumn.