India is a hub country for silk production with 5 major production states including Karnataka, Tamil Nadu, Andhra Pradesh, West Bengal and Jammu & Kashmir. Whenever it comes to choosing one option for
sari
, we can't ignore silk because of its vast
variety of color and designs.

Nowadays silk sarees are trending in the market, but because of the several available options in a silk sari it's quite difficult to know which one to choose out of the bundle, today I will try to make clear about the differentiation between all available options.


1. Kanjivaram sarees
The
Kanjivaram Sari
includes three parts in its pattern - body, border and pallu with contrast designs of the body and border which gives it entirely bright buttery look. Mulberry silk threads, metallic threads and dyes are the main raw materials in this saree. The pallu of kanchipuram sarees is woven separately with bright threads and then attached, carefully to body & border. These days you can see almost every bollywood actresses to wearing kanchipuram silk sarees in award functions, wedding occasions & festivals.
2. Banarasi sarees
A perfect statement that perfect fits on this sari is "old is gold". Different types of materials and fabrics touching the Indian market, but banarasi sarees never faded its shine among them. The
Banarasi sari
is the end result of skillful work using silk and brocade threads on pitloom or framelooms with specific motifs. Famous designers of the fashion industry trying a new fusion with banarasi saris with maintaining their traditional touch which attracting international customers to Indian tradition.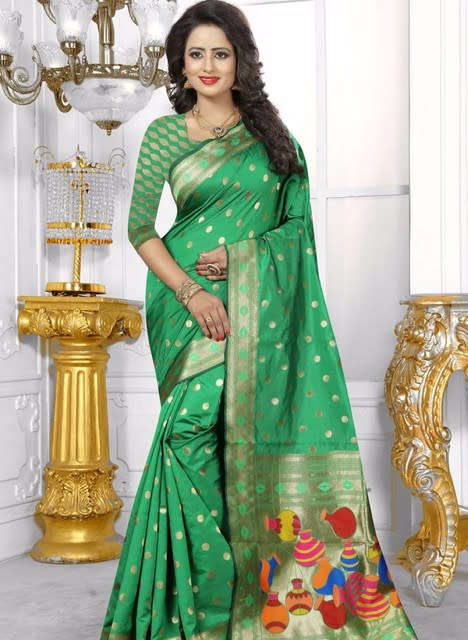 3. Tussar sarees
Tussar silk also known as tassar silk, kosa silk, which generated from larvae of silkworm species is known for its rich texture and natural deep gold color. The gold texture works as a suitable base for print motifs and embroideries inspired by nature. Shape of trees, floral patterns, bells, leaves and leaflets are the source of inspiration for Tussar silk sari. It is cooler than other silk sari so it is preferred in hotter areas of the country.
4. Raw silk sarees
This mesmerizing triangular shaped structure fiber spread the light hitting at various angles, which produces different colors on the fabric. The specialty of the Muga raw silk is its retaining capability of color for a lifetime. Mulberry raw silk saree is considered to be the finest and softest texture of raw silk whereas tropical tussar raw silk brings copper color as an output.
Raw silk saree
is fascinating to tellywood and bollywood grounds because of its varieties for different occasions.
5. Bhagalpuri silk sarees
When one talks about traditional vs trendy sarees we cannot ignore
bhagalpuri silk saree
. This saree yarn is woven with multi color silk threads into exotic and symbolic designs and motifs making a bhagalpuri saree which brings a vibrant and bright texture and feel. It's a growing demand at international fashion ramps have started to include this fabric for display.
http://www.fly2kart.com/sarees-saris.html
トラックバック
30日以上前の記事に対するトラックバックは受け取らないよう設定されております。
送信元の記事内容が半角英数のみのトラックバックは受け取らないよう設定されております。
このブログへのリンクがない記事からのトラックバックは受け取らないよう設定されております。
※ブログ管理者のみ、編集画面で設定の変更が可能です。