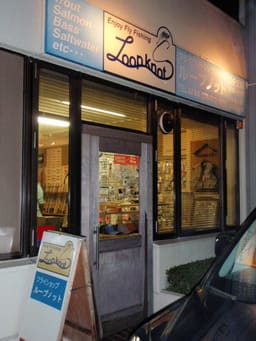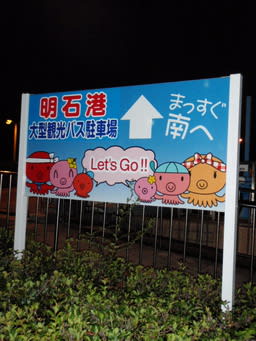 Actually, I wanted to fish for snakehead a bit more, but it's time to make a move. We booked a
guide seabass boat tonight at Akashi. Originally our booking was from 21:00, but captain called
us we would better to start earlier because of weather forecast said it would be strong northern
wind late tonight.
Made a quick stop at noodle shop on the way to the fly shop, becase I like a kind of heavy and oily
noodle of this chain noodle shop especially in
Kansai region
. At the fly shop, we chatted a little bit
then on board.
Akashi
is well known city in Japan, as Japanese standard time site is there. Also this city is very
famous for seafood, Snappers and Octopus are big name. The very narrow channel, strait, called
Akashi Kaikyo in between mainland and Awasji Island causes very strong current and it hold very
rich seafood.
From the beginning, babies were so aggressive. You know it's great fun, when you got contact in
almost every cast, even if it's small fish. Every spot we tried were more or less same, once I hooked
up a really good one, it's a pity, A couple of minutes later when I tried to lift it harder as fish still
stayed in deep, it's gone, hooked off. Soon I got another chance, saw a big mouth sucked my fly
and swam down, it's also gone within a few seconds, probably, the set hook was not firm enough...
Average size was 30-40cm and some 40-50cm fish. Tonight squid pattern worked pretty well.
Anyway, I really enjoyed fish together with my friend. Thanks a lot!!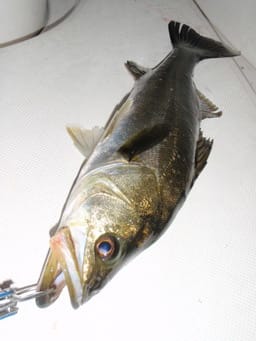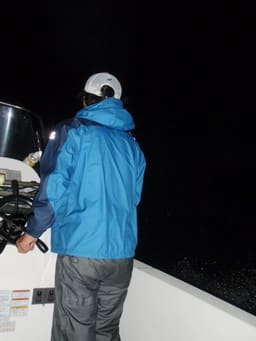 Data
Guide Boat Fishing, Akashi, Hyogo prefecture
Fly Shop Loop Knot, Tel: 078-912-1056
JPY26000 per 4hours charter
Tide: The 2nd day of Half tide
Moonage: 26.9
High tide: 19:12, 109cm, Low tide: 00:08, 75cm
Moonset: 16:09, Moonrise: 04:08
Sunrise: 05:49, Sunset: 17:54
Weather: Passing clouds, Warm
Temperature: 23.8 - 21.2 ℃
Wind: E 3.4 - NNE 3.3 mps
Fishing: 19:30-23:30
Catch: Seabass, 30-50cm
Fly: EP minnow, Squid pattern 7-9 cm
Want to know more? Email to me, flyfishinginjapan AT mail.goo.ne.jp