After the Earthquake and Tsunami, it's pretty difficult to buy petrol near my home. If available
you had to wait for a few hours in the long queue to each to the pomp for only 10 litters, so
I only used my car for necessary shopping for daily food for my family at weekend. Still electric
power shortage causes blackout but now around Kanto area our daily life is getting normal day
by day almost same as it was and we can buy petrol without waiting in the long queue.
It's a fine Sunday morning I went to the river Katsura about 1 and half hour drive from my home
to the spot where my friends fished a day before. Very famous spot for trophy size Yamame and
Amago, over 30cm and more bigger, dream fish like over 40cm are constantly landed in every year.
When I arrived at the spot two double hand guys were there and it seems like more bait fishers
in upstream.
Waded in the river nothing happened, seemed like too early, send text message to my friend to
hear how was a day before. Yes it's too early to fish as they saw fish rises around the noon.
Anyway it's nice fine day, the sun shines and birds sing, wait and wait. Around 11:15 I had early
lunch, because something told me to have lunch earlier and get ready to fish.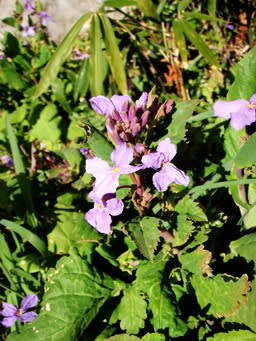 At the last bait of sandwich, the first fish rise, then second. The time had come!! Small beatis
fly, Deer hair Comparadun, CDC dun, size 22-18 did not work, changed to the CDC down wing
# 14, then the biggest fish of the school suddenly took it and hooked. Fish moved so fast and
violently, less than a second, OH! a broken tippet...
Later on I finally landed a beautiful Amago with same CDC down wing fly, very silver, shine and
sparkling with early spring sun shine. But around noon when it got windy no fish rise and got
very quiet.
Once again, saw fish rise around 12:30, the mixed hatch of various size of mayfly from #22-12.
I could see dun, spinner and drowned dun and this time I tied spinner #14. Wind annoyed me, difficult
to cast without back space Every cast fish moved away, as they already knew I was chasing them.
Small splash and fish took my fly. It seemed like smaller fish when I hook but it was not, another
beauty, I have not landed for a few years, real muscular in the strong current, beautiful silver
and blue back fish.
Still there's some fish rise, but it's getting very difficult to cast against the strong wind.
Time to go home, it's a great day!!
Data
River Katsura, Yamanashi
http://www12.ocn.ne.jp/~gyokyou/
Day ticket ¥1200, Season ticket ¥8000
Temperture: 8.6 - 11.5℃
Wind: NE 1.7 - 3.6mps (Otsuki)
Fishing: 09:30 - 13:30
Catch: Two, 25 and 31cm
Fly: CDC down wing, Spinner, DD #14
Want to know more? Email to me, flyfishinginjapan@mail.goo.ne.jp