A dull thing to do in Kobe, but it's good, as it gave me a chance to fish before and after that.
When it comes to summer it must be the predator hunting, as first I called my friend and
we decided to fish at small ponds in Miki, Hyogo for snakehead. Before the dawn, we were
already setting up at the first pond, usually the most productive pond in this area and waited
for a whole, as first we had to find fish. It's a kind of sight fishing, find fish, sneak up on within
the casting distance, make a quick cast and presentation just about a meter ahead of fish.
The pond was almost fully covered by weeds, the water chestnuts jungle is their favourite,
as it gave plenty of food and hide away. It's more heavier than last season and was pretty
difficult to find. I walked along the pond but could not find any fish so made blind cast on the
weeds but no response. Time to make a move, another pond was just a few hundred meter
away. We found a couple of fish there and finally with a big sucking sound fish attached my
spider fly.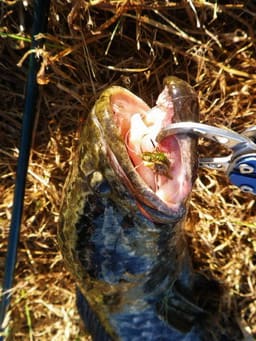 Backed to the fist pond and immediately my buddy found two fish in the shallow water and the
one aggressively bit his popper while the other one disappeared into the weeds. We fished here
and there, and I missed two more bites. Too hot to fish, time to go.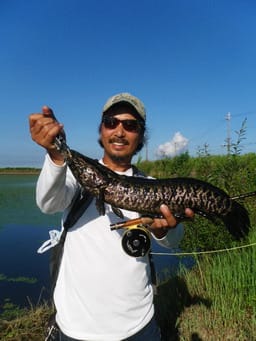 Data
Small ponds, Miki, Hyogo
Day ticket: Free
Weather: Fair, Hot
Wind: E 0.5 - NNE 2.1 mps
Temperature: 26.1 - 30.8 ℃,
Fishing: 04:30-10:00
Catch: One
Want to know more? Email to me.