On the way back home, I was thinking about where to fish tonight as according to the latest
weather forecast, from tomorrow it would be heavy seas in this week. Emailed to my friend
who fish more often, to hear the latest news, then checked sea and wind conditions again
when I got back to home. South wind and strangely it blew harder in Yokohama area than in
south. Soon the tide would be highest so I could be there when ebb tide started. Rockfish
tonight, as I have not fished for it over a month.
Rigged up with floating line and fluorocarbon leader at home not snagging too much because
sea grass grow up to sea surface now, then I headed to the sea. I checked email message,
When I got to the sea, found he was after me. After a couple of cast I got first bite. Fish
stayed in very close to structure and sea grass as they were waiting and hiding to hunt.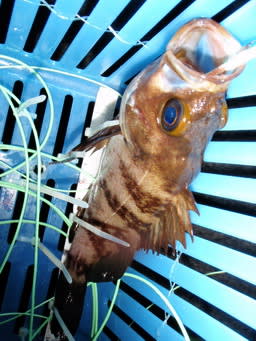 I got bites only when fly was close enough to structure and sea grass. Sometime, fish immediately
run into deep in sea grass, caused hook off. Fish were short biting, it seemed like they were not
aggressive. Then it got better when fish came close to shore and I really enjoyed it, but it was
only about 30 minutes.
Data
Maori Kalian, Kanagawa
The 3rd day of Half tide
Moon age: 18.5
high tide: 20:05 157cm, Low tide: 01:27, 80cm
Sunrise: 05:16, Sunset: 18:10
Moonrise: 22:20, Moonset: 07:32
Weather: Passing cloud
Wind: S 2.8 - SSE 1.8 mps
Temperature: 14.7 - 14.1 ℃
Fishing: 20:30 - 23:00
Catch: Many
Fly: Unique hair candy (2-3cm)
Want to know more? Email to me.