When the Spring has come to Tokyo, they are back to their mother river Tamagawa to
spawn, just like Salmon in the northland rivers. The sea run dace called Maruta is a kind
of great game fish and fighter for both lure and fly angler live in metropolitan city, easy
access, easy fishing. One the national holiday morning when I got to the river, there's more
anglers than I expected at bellow one of the biggest weir where's the end of their journey.
Usually it takes more time to up here but this year the season seemed started a little bid
earlier so a bunch of them have already reached to their end.
At the first pool, on my first cast a snagged barbel was on. Maruta did not bite at all even
lure guys on the other side were landing. I walked around and found a bunch of fish at the
shallow where a lure guy was fishing. Pardoned me for fishing below him. I carefully fished
not to snag them, even through a few fish were snagged. Today, it seemed like that their
favorite was egg fly, especially pink.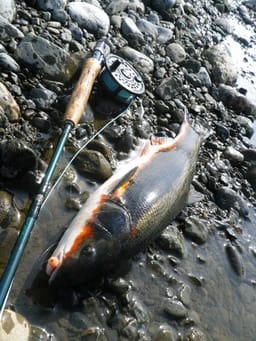 Data
River Tamagawa, Tokyo
Weather: Fair
Temperature: 15.8 - 17.9 ℃
Wind: WNW 1.6 - SSE 1.0 mps
Fishing: 08:15 - 10:45
Catch: Four
Fly: Fluorescent yellow egg, Pink egg #10