Next morning, we picked up today's my guests near my house in Yokoahma and headed Oshino
fishery since its opening day. For far, since I have started my weblog, I fished together with
my blog readers who were all experienced keen fly fishing gentlemen. Today was a kind of
most unusual and favourable occasions, because my guests were two beautiful young ladies
who were totally beginners. They like fishing, mostly fished from boat on the ocean. Last year
I took them to fish at Ozenji fishery, but it's just a few hours fishing. So actually today was the
first opportunity for them to fish at natural river, to be honest it's too artificial to call it as
a natural river, also more than 95% of fish were farmed and newly released fish in Oshino fishery.
I believe they were pretty lucky, because a real expert fly fisher who's a FFF casting instructor
and a Oshino pro kindly guided them to fish today. Stopped fly shop "Rivers Edge" to buy our
day tickets and flies for guests. The owner selected a couple of killer flies which usually work
well at Oshino and we parked at the top section of the fishery. Equipped with killer fly and guided
by a super expert, they were not beginners any more, immediately they landed a few fish at
the top stretch of the fishery.
And tried to hook up more and more fish, great to see their beatifull smiles.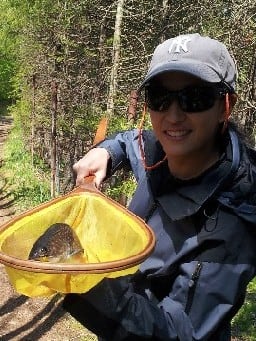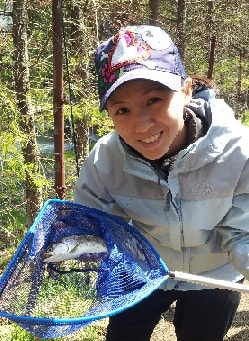 As usual, midge pupa worked well, probably they mostly eat midge as they constantly rising.
Luckily I could fool a couple of rising fish in the morning.
Backed to fly shop for lunch, as always I ordered my favorite roast beef sandwich and a cup
of coffee. It seemed like our guests were happy on a small creek in the forest. After lunch
we walked down the creek to find a spot to fish, sadly most of deep pools which were very
productive had been covered by sand because of last year's typhoon and town development.
A few good spots were already occupied so we walked up again. Evening was a bit slow, but it's
a nice sunny day fishing.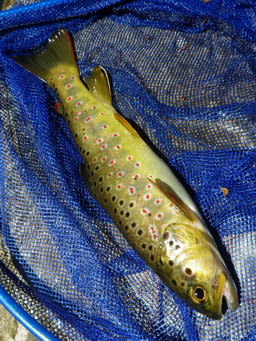 The traffic way back to Yokohama was hell, because of Golden week holiday,
we only got to home before midnight.
Ladies, wanna be my guest again? Email to me! hahaha.
Data
Oshino Fishery, Yamanashi
Day ticket: JPY 800
Weather: Sunny
Temperature: 10.7 - 15.1 - 10.7 ℃
Wind: NW 0.6 - SE 3.7 - 1.7 mps
Fishing: 09:00 - 18:30
Catch: Rainbow, Yamame, Iwana, rainbow
Fly: Hairs Ear nymph #14, Midge pupa #22, #24