September has come but summer has not gone yet. It's old boys fishing trip to the west, lake
Hamanako and gulf Ensyu. We were going to stay in Hamamatsu a night to hit Seabream, called
Kurodai
in Japanese on day1 and Mahi on day2. With my buddy we left my house after midnight.
The mid night traffic was pretty good and approx 250km drive way to the west to
lake Hamanako
was only three and half an hour including two stops.
Two years ago
it took me over six hours
to get there because of 3 - 4 traffic accident on highway and finally I forced to drive off the
highway at nearly 70km to go. Now new highway has opened in Sizukoka prefecture, less traffic
jam and accident.
Got a quick sleep at parking and we were on board before the sunrise as usual. The small, 5
-6 meter long, Japanese traditional boat, with gasoline engine is very useful in this blackish
water lake. As first we tried popping in open shallow area and I tied local favourite prawn popper
on my 8 wt. The rich sandy lake bed is covered by weeds here and there, these weeds and
sand hold a lot of creatures, such as prawn, crab, crustaceans and worm, shellfish, etc which
are good bait for Kurodai.
Full cast and pop and popping, early in the morning baby seabass were very aggressive, they
were going to attack the big popper nearly same as their body size. The attach of Kurodai
and Seabass is different, you hear a sucking sound when Kurodai attack your popper. I just
got a Kurodai bait here then we moved to oyster shell bed where I landed two fish before.
We cast and popped very tight to structures and drop off, but could not get any bite.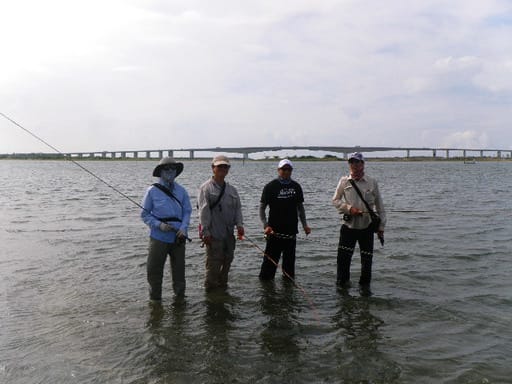 The tide got lower and we diced to get of the boat to start sight fishing from the tidal flats.
Set up 6 wt with EP merkin, anchored out boat and jumped in the water. Walked like ninja
and hunted like hawk. Wind and ebb tide made a good flow, we saw many baby seabass splash
aggressively hunting small bait fish which was really attractive for me and I was about to change
my fly to baby seabass, then I found the baby bass fly box was on boat and was already
200 - 300 meter away. So I decided to hunt only Kurodai on this flat. As I imagined it's
very hard to find a fish even in ankle depth shallow flat. No idea if there's fish or not but I
could not see any fish at all.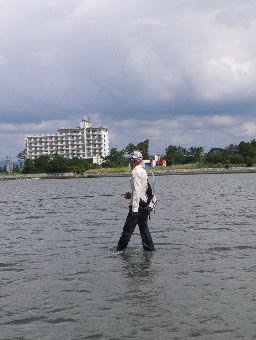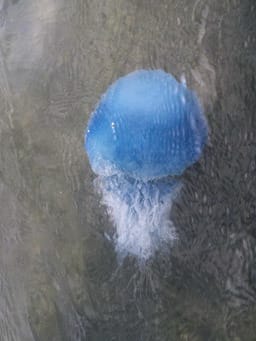 After lunch we tried another flats, at first one I bound a bunch of baby seabass and this time
I did not forget flies for them. In the afternoon, the food tide was completely against the wind.
These baby bass were not aggressive any more, just come close to fly but never bit it. Finally
I got a bite. When I was about to hold the tippet it's gone.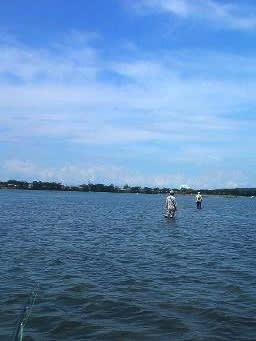 Got a nap on boat, about on hour later I heard my Brazilian friend landed a baby
yellowfin
on
shrimp fly while we were sleeping. Again we tried the flat and no result, then we popped again
where we fished in this morning
The wind was picking up and it's annoyed us, but fish got really aggressive at evening. I got more
than twenty bites, but hooked up none of them. A couple of them must be Kurodai but I never
knew.
After dinner and hot springs, it's another happy time!!
Data
Lake Hamanako, Shizuoka
Rental Boat Fishing:
Fishing Oki
, 7000 YEN per day rental
2nd day of Spring tide, Moon age: 14.5
High tide: 05:53, 130cm, Low tide: 12:28, 33cm, High tide: 18:31, 128cm
Sunrise: 05:22 Sunset: 18:19
Moonrise: 18:16, Moonset: 05:48
http://sio.mieyell.jp/select?po=42218
Weather: Fair. Hot.
Temperature: 23.8 - 30.3 - 28.2 ℃
Wind: NE 2.4 - SE 5.7 - SW 3.8 mps
Fishing: 06:00-13:30 and 15:00-17:00
Catch: None
Fly: Prawn popper
Want to know more? Email to me.