Rheingold BMW ISTA Software update to 2017.05 version. Eobdtool.com share Last BMW diagnostic software with ISTA D 4.06.22 ISTA-P 3.62.1.003 Free Download for BMW diagnostic Tool BMW ICOM A2 and ICOM NEXT A BMW Scanner. Rheingold
bmw diagnostic
software work for BMW diagnostic and programming till May 2017.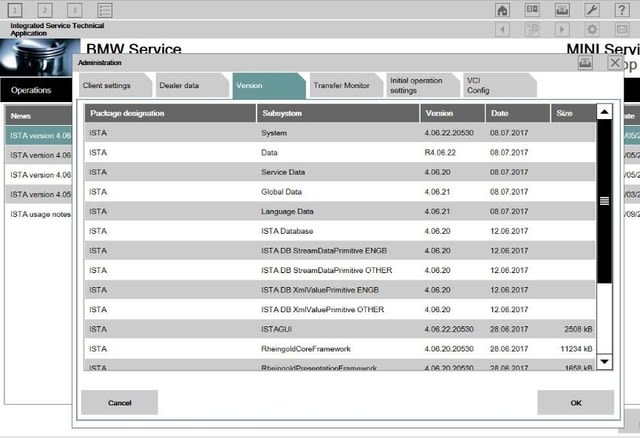 Eobdtool.com Note before download:
1. ISTA 4.06.22 download here is FREE & NO PASS!
2. Links all working, no dead links!
2. BMW ISTA 4.06 from eobdtool.com now still with security unknown, haven't been tested! So if you need a BMW ISTA (TESTED WORKING& SAFE),
here you go:
BMW ISTA 4.05.20 05.2017 BMW ISTA HDD WIN7

Download BMW ISTA-D 4.06.22 Standalone with License:
https://mega.nz/#F!4Msz2RgL!jvZdlqN3SF75Z5rIRnWnYg

Download BMW ISTA-P 3.62.1.003:

https://mega.nz/#F!s0hxEDrI!uab-QgLpydaYaz6uUKkN0g
Download BMW ISTA 4.06.22 20530.msi:
https://mega.nz/#!S0FCABBI!C-KqRcmU3XtVHEi_lvV1eTiqoc3nw-vgaETpAtjACWE
ISTA-META_4.06.22
https://mega.nz/#!WsUVRSjY!V8zdlfQcMIejrdT_lRlEAQ30AjtGaczd-BfCCEeiVHU
ISTA-DATA_cs-CZ_4.06.21.istapackage
https://mega.nz/#!vkdCELiJ!8GeGJORzTNBDfk1sMVG2XjUmMD1HwONfkVDP3Sewmis
ISTA-DATA_en-GB_4.06.21.istapackage
https://mega.nz/#!StVjxBBa!9KaDAQbiVEf-PmQzdKF9lyV4edrcAcLFT97WjtSPXW4
ISTA-DATA_de-DE_4.06.21.istapackage
https://mega.nz/#!6lEQyZ7b!VdcEFb6_A0iI8eFO95bKjjh5QGNGhvJrbV6HqIcExJY
ISTA-DATA_GLOBAL_4.06.21.istapackage
https://mega.nz/#!uktU3QRb!-NLDa66tkIprsZTlyl71mO3hzli3EPWUrjsO2YaVH0o
ISTA-SDP-DELTA_4.06.20.istapackage
https://mega.nz/#!HoNQ2ByB!wh8QUXKzJC-A8KcouG-3Zt4KhIVCjJs8SZ61XYxEkfc
ISTA-META_SDP_4.06.20
https://mega.nz/#!zhEWEbKS!VARlUg-PyWEA_C6k0bBSnOJ2X7frB6E5hxrruii25J4

Eobdtool.com BMW ISTA 4.06.22 Standalone 07/2017 ISTA+ Update Info
Ultimate Ediabas/ISTA+ voltage control
Hardware check disabled -can use the program on the slower laptops.
ISTA contains all the functions required for programming vehicles of the F, G and I series and for Motorrad models with vehicle electrical system 2020 (BN2020).

Language:
ENG, GER, FR, RU, OTHER
With Technical Information (TIS) and Wiring Diagram (WDS).
Ediabas and all necessary tools included.
Included components (32-Bit & 64-Bit)

Included :
ISTA User Manual EN,DE, IT,PL,RU,TR,CZ,ES,FR,JP,KR,NL,SE
NET Framework 4.6 + Updates
Java Runtime Environment 8
DirectX 9.0c Extra files
General runtime files
Microsoft Visual C++ Runtimes (v2005 – v2015)
Microsoft Visual J# 2.0 SE
Microsoft Silverlight 5
Adobe Flash Player (Opera, FireFox, Internet Explorer)
Shockwave Player 12 (Internet Explorer Plugin
EDIABAS
Suitable for BMW Motorcycle
BMW ISPI ICOM-FW 03-15-00
BMW ISPI ICOM-Next-FW 03-15-00
More detail about BMW Scanner and BMW ISTA rheingold software just contact us freely.
Focus On OBD Tool Since 2008

Follow Us
:www.facebook.com/eobdtool
Skype:
eobdtool02

WhatsApp:
(+86)13728823411
Email
:sales01@eobdtool.com
Website
:www.eobdtool.com
You might also like
:
https://www.linkedin.com/pulse/eobdtoolcom-bmw-diagnostic-software-rheingold-ista-d-40622-melody-liu