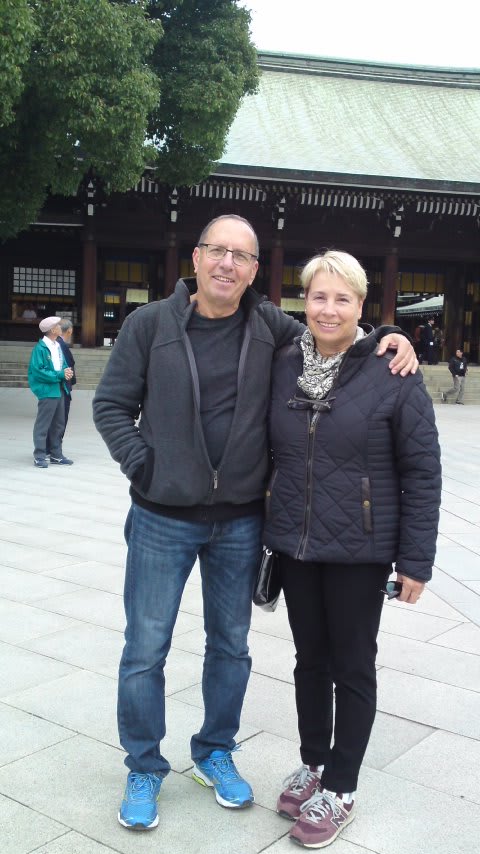 I guided a married couple from Israel to Meiji Shrine, Omotesando, and Yanesen. It's really a wonderful day for taking a walk under a good weather.
On the way to Meiji Shrine , we enjoyed walking along the Omotesando Street. The leaves have started to change their color into yellow and red. The couple was especially impressed with the sophisticated Prada building.
Then we visited Meiji Shrine. We saw some children wearing kimono to celebrate 'Shichi-go-san' (Japanese traditional events for children). They were so cute. We had takoyaki (Japanese snack) at a stall.
After that, we visited Yanesen where they enjoyed nostalgic atmosphere.She likes Japanese food, and she bought Japanese traditional sweets, sugared beans, cooked by an old shopkeeper at a small shop.
We entered Asakurachousokan (Asakura museum of sculpture), which was elaborate residence and studio of a famous Japanese artist Mr. Asakura, and now it is open to the public for exhibition of sculptures created by him. There we saw a typical traditional Japanese house of rich people. Everything there, including the garden, furniture, ceiling and wall were really really refined.
Today, I showed a typical modern part of Tokyo and traditional parts of Tokyo. I was very happy to share this wonderful time with them. Thank you.
(KH)
ジャンル:
Comment (1)


Tweet