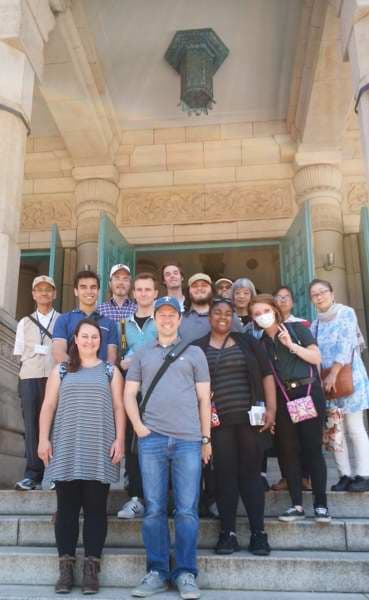 Three members of our group guided nine students, two professors and an officer of Belmont University in Tsukiji-market on 22nd May.
The guided tour started after they received one hour lecture, "All about Tsukiji", in English in the lecture room, "Puratto Tsukiji", in information centre of outer market.
The lecture was presented by a member of the NPO group for Tsukiji market in English using a DVD. The students well understood the operations in the market including bidding for tuna.
During the visit in the market, we parted into 3 groups of 5 people, and each group acted separately.
Looking at real sea fish, such as tuna, shrimp and shellfish, in the wholesale market seemed to be a surprising experience for the students from Belmont University in Nashville Tennessee.
Especially when they looked at a massive pile of dorsal and pectoral fins of tuna which was cut out for preservation, they seemed surprised at great gap between actual scene and understanding so far in its size and shape.
We had finished the visit to wholesale market safely even though there was a scene a student took pictures eagerly and warned lightly from a security guard of the market.
At the Tsukiji Hongan-ji temple, each guide explained the abstract of the temple and then we have received explanations by the stuff of the temple. Finally we took a group photo of all the members and finished the tour at the intersection of "Ginza 4-chome".
(Sa.K.)